PopUp Offices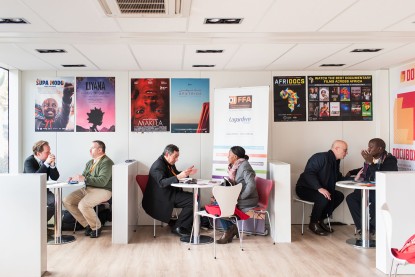 PopUp Offices at the Berlinale Africa Hub are small and temporary meeting & working spaces to create better visibility. They enable your business to have a physical presence at the EFM on a low-cost basis and are therefore ideal for sales companies, industry newcomers and initiatives from or with a focus on Africa.
Contact
Berlinale Africa Hub
1st floor, Marriott Hotel

Please note that the information currently given below refers to the Berlinale Africa Hub 2020 and is shown in order to offer a general insight. All relevant content will be updated as soon as it becomes available.
Companies with a PopUp Office at Berlinale Africa Hub 2020
AfriDocs, South Africa
Durban Film Office, South Africa
Docubox, Kenya
Ethiopia Creates, Ethiopia
Rushlake Media, Germany
Sudanese Filmmaking Association, Sudan
Sudu Connexion / Awotele, France
cinidb.africa, Germany