Chile in Focus
Please note that the information currently given below refers to the diversity and inclusion event at the EFM 2020.
All relevant content will be updated as soon as it becomes available.
Contact
Diversity & Inclusion
Themba Bhebhe

Reframing Communities Onscreen: Indigenous Voices in Chile
Tuesday, February 25
2 - 3 pm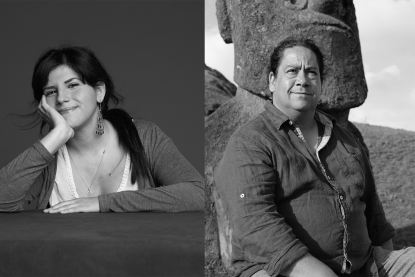 Featuring Chilean filmmakers Claudia Huaiquimilla and Leo Pakarati and focussing on their most recent works as case studies, this conversation will frame the context in which these Indigenous cinematic voices have arisen and explore the ways in which the Indigenous communities seen onscreen were integrated off-screen in the production and distribution of their films.
With
Claudia Huaiquimilla (Filmmaker)
Leo Pakarati (Filmmaker)
Moderator/Interpreter
Pamela Biénzobas
Supported by EFM, in collaboration with CinemaChile
Venue:
Chilean Embassy
Mohrenstraße 42
10117 Berlin
Free admission, a valid photo-ID is necessary
Spanish and English with two-way interpreting
Related Links