Archive Day
Tuesday, 25 February
Please note that the information currently given below refers to the DocSalon 2020 and is shown in order to offer a general insight. All relevant content will be updated as soon as it becomes available.
Contact
DocSalon
Stand 201, 2nd floor, Gropius Bau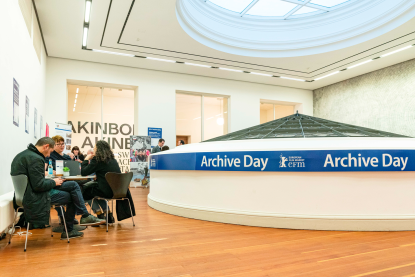 The EFM shines a light on archives and archival research with the first edition of Archive Day on the second floor at Gropius Bau. Representatives of premier, international footage libraries present their archives and invite EFM participants to discover their collections and to discuss specific projects. Archive Day Business Tables will be open from 10 am - 5.30 pm. Please see the list of all participating archives below.

A conference and a sneak preview screening complement the business portion of Archive Day.
Programme
Rundfunk Berlin-Brandenburg (rbb), zero one film, ARTE & bauder film
Berlin 1945 time-travels into the city's most fateful year through the eyes of those who experienced it: Germans and Allied soldiers. A fast-paced collage creates an in-the-moment narrative of how the city was liberated and how it emerged from the rubble.
Followed by a short Q&A with
director Volker Heise, editor Andrew Bird and Dr. Patrick Hörl (Autentic Distribution)
This talk is kindly supported by Telefilm Canada.
Part 1
Berlin 1945 – A Case Study (30 min)

Ambitious, stunning, moving – Berlin 1945 recounts the year 1945 in Berlin through the eyes of those who experienced it and as it has never been told before. Director Volker Heise and Editor Andrew Bird talk about the process and the challenges of creating this fast-paced 180-minute narrative that was assembled using solely archive footage.
With
Volker Heise (Director & Producer of 24h Berlin, 24h Jerusalem, 24h Europe)
Andrew Bird (Editor of Head-On Soul Kitchen, The Golden Glove)
Moderated by Monika Preischl (Archive Researcher / Producer)
Part 2
Archival Research – An International Perspective (60 min)

Featuring clips from recent films such as Walchensee Forever (Janna Ji Wonders, Berlinale 2020), Beuys (Andreas Veiel), Into the Inferno (Werner Herzog) and rare footage from the archive stock of the German Federal Archives, renowned Canadian archive producer Elizabeth Klinck compares notes with German producers, researchers and archivist on the various approaches to archival research, producing and licensing.
With
Dr. Adelheid Heftberger (Head of Film Access, German Federal Archives)
Katharina Bergfeld (Documentary Producer, Flare Film)
Monika Preischl (Archive Researcher / Producer)
Moderated by Elizabeth Klinck (Archive Researcher / Producer)
Participating Archives 2020