EDN Presentation & Consultations
Please note that the information currently given below refers to the DocSalon 2019 and is shown in order to offer a general insight. All relevant content will be updated as soon as it becomes available.
Media and Society: Reality Check on Documentary Financing in Europe
Sunday, 10th February, 10 - 11 am
In the course of 2018, the European Documentary Network (EDN) conducted a survey on the state of independent documentary filmmaking in Europe in times of a rapidly changing media landscape.
Contact
DocSalon
Stand 201, 2nd floor, Gropius Bau

EDN
Jörg Winkelmann

EDN director Paul Pauwels and Eline Livémont (University Brussels) look back at the exercise and for the first time present the results. Documentary professionals are invited to take part in the discussion, to add remarks and comments and to contribute to the launch of the second stage: creating a policy document towards a economically sustainable and artistically rich independent documentary environment.
EDN Consultations
Friday - Tuesday, 8 - 12th February, 10 am - 5 pm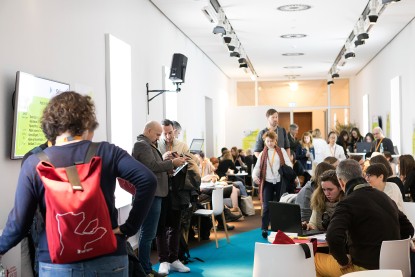 Consultations with EDN - European Documentary Network are available from 8-12th February between 10 am and 5 pm. Meetings can be arranged by contacting Jörg Winkelmann, either personally in the EDN area at DocSalon or by . The consultations are provided by EDN director Paul Pauwels and EDN Press & Communications Manager Jörg Winkelmann. Requests by mail can only be taken into account in the period 8-12th February and are handled on a first come, first served basis.