Meet the Festivals
Friday - Tuesday, 8 - 12th February
Please note that the information currently given below refers to the DocSalon 2019 and is shown in order to offer a general insight. All relevant content will be updated as soon as it becomes available.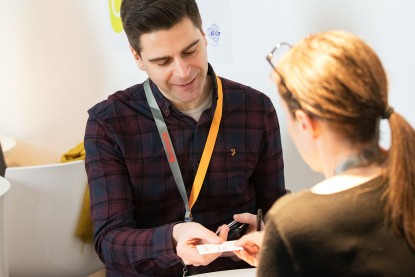 Meet the Festivals gives you direct access to top doc festival programmers and market representatives with the opportunity to book short one-on-one meetings and discuss your projects.
Participation
If you would like to participate in this format, please pre-register via . Please include a short paragraph describing your project and any prior experience in documentary filmmaking or distribution.
Contact
DocSalon
Stand 201, 2nd floor, Gropius Bau

You can register for three meetings. Please indicate your three top choices and three alternative dates.
Meet the Festivals
Stand #201, Gropius Bau, 2nd floor
Please note the list of participating festivals will be updated regularly.
Friday, 8th Feb, 11 am - 12 noon
Michael Howell / Lia Rinaldo, Devour! The Food Film Fest, US
Adele Kohout, DOK.fest München, DE (fully booked)
Marie-Therese Antony, DOK Leipzig, DE (fully booked)
Dorota Lech, Hot Docs, CA (fully booked)
Leah Sapin, Human Rights Watch Film Festival NY, US (fully booked)
Selin Murat, RIDM, CA
Patrick Hurley, Sheffield Doc/Fest, UK (fully booked)
Irem Couchouron, Silbersalz Festival, DE
Francesco Giai Via, Venice Production Bridge - Gap Financing Market, IT (fully booked)
Saturday, 9th Feb, 11 am - 1 pm
tba, CPH:DOX*, DK (fully booked)
Adele Kohout, DOK.fest München, DE (fully booked)
Marie-Therese Antony / Brigid O'Shea, DOK Leipzig, DE (fully booked)
Mario Durrieu, FIDBA, AR
Fabienne Moris, FIDMarseille, FR (fully booked)
Dorota Lech, Hot Docs, CA (fully booked)
Joost Daamen, IDFA, NL (fully booked)
Marek Hovorka, Ji.Hlava International Documentary Film Festival, CZ
Krzysztof Gierat, Krakow Film Festival, PL (fully booked)
Selin Murat, RDIM, CA
Melanie Iredale, Sheffield Doc/Fest, UK (fully booked)
Hussain Currimbhoy, Sundance Film Festival, US (fully booked)
Thom Powers, Toronto IFF, CA (fully booked)
Madeline Robert, Visions du Réel, CH (fully booked)
Sunday, 10th Feb, 11 am - 1 pm
Alyona Bocharova, Beat Film Festival, RU
tba, CPH:DOX*, DK (fully booked)
Cíntia Gil, Doclisboa, PT (fully booked)
Diego Mas Trelles, Docs Barcelona, ES (fully booked)
Adele Kohout, Dok.fest München, DE (fully booked)
Lina Dinkla, DOK Leipzig, DE (fully booked)
Mario Durrieu, FIDBA, AR
Fabienne Moris, FIDMarseille, FR (fully booked)
Dorota Lech, Hot Docs, CA (fully booked)
Laurien ten Houten, IDFA, NL (fully booked)
Marek Hovorka, Ji.Hlava International Documentary Film Festival, CZ (fully booked)
Krzysztof Gierat, Krakow Film Festival, PL
Patrick Hurley, Sheffield Doc/Fest, UK (fully booked)
Hussain Currimbhoy, Sundance Film Festival, US (fully booked)
Madeline Robert, Visions du Réel, CH (fully booked)
Monday, 11th Feb, 11 am - 12 noon
Mladen Vusurovic, Beldocs, RS (fully booked)
tba, CPH:DOX*, DK (fully booked)
Karin Rywkind Segal, Docaviv, IL (fully booked)
Cíntia Gil, Doclisboa, PT
Lina Dinkla / Brigid O'Shea, DOK Leipzig, DE (fully booked)
Artur Liebhart, Docs Against Gravity, PL
Leah Sapin, Human Rights Watch Film Festival NY, US (fully booked)
Laura van Halsema, IDFA, NL(fully booked)
Melanie Iredale, Sheffield Doc/Fest, UK (fully booked)
Thom Powers, Toronto IFF, CA (fully booked)
Madeline Robert, Visions du Réel, CH (fully booked)
Tuesday, 12th Feb, 11 am - 12 noon
tba, CPH:DOX*, DK (fully booked)
Cíntia Gil, Doclisboa, PT (fully booked)
Artur Liebhart, Docs Against Gravity, PL (fully booked)
Adele Kohout, DOK.fest München, DE (fully booked)
Veton Nurkollari, DokuFest, XK (fully booked)
Marie-Therese Antony / Brigid O'Shea, DOK Leipzig, DE (fully booked)
Claudia Maci, Festival dei Popoli, IT (fully booked)
Mario Durrieu, FIDBA, AR (fully booked)
Dorota Lech, Hot Docs, CA (fully booked)
Meike Statema, IDFA, NL (fully booked)
Johannes Klein, In Edit Music Documentary Film Festival, ES (fully booked)
Jay Rosenblatt, San Francisco Jewish Film Festival, US (fully booked)
Patrick Hurley, Sheffield Doc/Fest, UK (fully booked)
Madeline Robert, Visions du Réel, CH (fully booked)