Meet the Festivals
Friday-Tuesday, February 16-20, 11 am-12 noon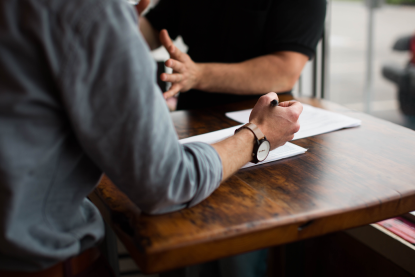 Meet the Festivals gives you direct access to top doc festival programmers and market representatives with the opportunity to book short one-on-one meetings and discuss your projects.
Participation
In order to participate in this format, you need to pre-register via . Applicants with first experience in documentary filmmaking or distribution have priority.
Contact
DocSalon
Stand 201, 2nd floor, Gropius Bau

Meet the Festivals
(Stand #201, Gropius Bau, 2nd floor)
Friday, Feb 16
Dorota Lech, Hot Docs, CA (fully booked)
Florina Vilgertshofer, DOK.fest München, DE
Johannes Klein, In-Edit, ES
Kirill Sorokin, Beat Film Festival, RU
Marie-Thérèse Antony /
Kim Busch, DOK Leipzig, DE (fully booked)
Sylvia Bednarz, Sheffield Doc/Fest, UK (fully booked)
Karin Rywkind Segal, Docaviv, IL
Irem Couchouron, Silbersalz Festival, DE
Mimi Brody, AFI Docs, US (fully booked)
Hussain Currimbhoy, Sundance Film Festival, US (fully booked)
Janis Plotkin, Mill Valley Film Festival, USA
Saturday, Feb 17
Dorota Lech, Hot Docs, CA (fully booked)
Sina Weber, DOK.fest München, DE
Johannes Klein, In-Edit, ES
Fabienne Moris, Fidmarseille, FR (fully booked)
Mladen Vusurovic, BelDocs IDFF, RS
Alyona Bocharova, Beat Film Festival, RU
Joost Daamen, IDFA, NL (fully booked)
Marie-Thérèse Antony, DOK Leipzig, DE (fully booked)
Madeline Robert, Visions du Réel, CH (fully booked)
Sylvia Bednarz, Sheffield Doc/Fest, UK (fully booked)
Melanie Iredale, Sheffield Doc/Fest, UK
Marek Hovorka, Jihlava IDFF, CZ
Hussain Currimbhoy, Sundance Film Festival, US (fully booked)
Mark Adams, Edinburgh IFF, UK
Sunday, Feb 18
Dorota Lech, Hot Docs, CA (fully booked)
Adele Kohout, DOK.fest München, DE (fully booked)
Fabienne Moris, Fidmarseille, FR (fully booked)
Mladen Vusurovic, BelDocs IDFF, RS
Katrine Kiilgaard, CPH:DOX, DK (fully booked)
Adriek van Nieuwenhuijzen, IDFA, NL (fully booked)
Kim Busch, DOK Leipzig, DE (fully booked)
Madeline Robert, Visions du Réel, CH (fully booked)
Melanie Iredale, Sheffield Doc/Fest, UK (fully booked)
Marek Hovorka, Jihlava IDFF, CZ
Hussain Currimbhoy, Sundance Film Festival, US (fully booked)
Yianna Sarri, Thessaloniki Documentary Film Festival, Greece (fully booked)
Sandra Binazzi & Claudia Maci, Festival dei Popoli, IT
Monday, Feb 19
Dorota Lech, Hot Docs, CA (fully booked)
Krzysztof Gierat, Krakow FF, PL (fully booked)
Lia Rinaldo, Devour! Food Film Fest, CA
Michael Howell, Devour! Food Film Fest, CA
Fabienne Moris, Fidmarseille, FR (fully booked)
Joan Gonzàlez, DocsBarcelona, ES (fully booked)
Katrine Kiilgaard, CPH:DOX, DK (fully booked)
Martijn te Pas, IDFA, NL (fully booked)
Marie-Thérèse Antony, DOK Leipzig, DE (fully booked)
Madeline Robert, Visions du Réel, CH (fully booked)
Melanie Iredale, Sheffield Doc/Fest, UK (fully booked)
Marek Hovorka, Jihlava IDFF, CZ
Nita Deda, Dokufest, Kosovo
David Rane, Guth Gafa Int. Documentary Festival, IRL
Tuesday, Feb 20
Dorota Lech, Hot Docs, CA (fully booked)
Krzysztof Gierat, Krakow FF, PL
Lia Rinaldo, Devour! Food Film Fest, CA
Michael Howell, Devour! Food Film Fest, CA
Joan Gonzàlez, DocsBarcelona, ES
Katrine Kiilgaard, CPH:DOX, DK (fully booked)
Laurien ten Houten, IDFA, NL (fully booked)
Kim Busch, DOK Leipzig, DE (fully booked)
Madeline Robert, Visions du Réel, CH (fully booked)
Melanie Iredale, Sheffield Doc/Fest, UK (fully booked)
Karin Rywkind Segal, Docaviv, IL
Irem Couchouron, Silbersalz Festival, DE
Mimi Brody, AFI Docs, US (fully booked)
Neasa Ní Chianáin, Guth Gafa Int. Documentary Festival, IRL
Jay Rosenblatt, San Francisco Jewish Film Festival, US