Salon Speeches
Sunday, 23 February, 3.15 - 4.30 pm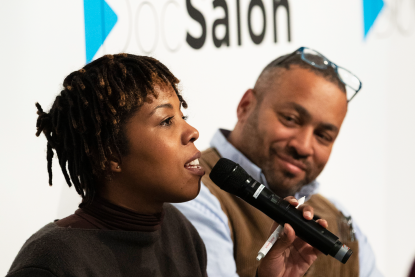 A new format inviting representatives of doc initiatives and organizations to present their programmes in 15-minute slots each followed by a short Q+A with the audience.
Contact
DocSalon
Stand 201, 2nd floor, Gropius Bau

Please note that the information currently given below refers to the DocSalon 2020 and is shown in order to offer a general insight. All relevant content will be updated as soon as it becomes available.
With
Wapikoni, Odile Joannette (Executive Director)
The Canadian non-profit organization hosts educational workshops and film screenings to raise awareness and educate the wider public about Indigenous cultures, issues and rights. Each year, an average of 300 young people participate in the workshops creating 50 short films and 30 musical recordings.
B2B Docs Baltic to Black Sea Documentary Network, Alex Shiriaieff (Project Manager)
B2B-Docs is an informal co-production platform for the filmmakers living and working between the Baltic Sea in the north and the Black Sea in the south. It's the place where inexperienced filmmakers meet experienced ones and bring their stories to the international market together in co-production.
Baltic Sea Docs, Zane Balčus (Project Manager)
Every year, Baltic Sea Docs gathers over 100 professional filmmakers from the Baltic Sea region and Eastern and Central Europe. Participating in the forum is an invaluable way for filmmakers to find funding for the production of their projects and to ensure that their films reach a wide audience across Europe.
Nebulae / Doclisboa , Glenda Balucani (Industry Coordinator)
Nebulae is the new space for networking at Doclisboa. It is a group of activities, gatherings, opportunities and people for the advancement of the creation, production and dissemination of independent film.