SalonTalks
Friday-Tuesday, 8-12 February 2019
Please note that the information currently given below refers to the DocSalon 2018 and is shown in order to offer a general insight. All relevant content will be updated as soon as it becomes available.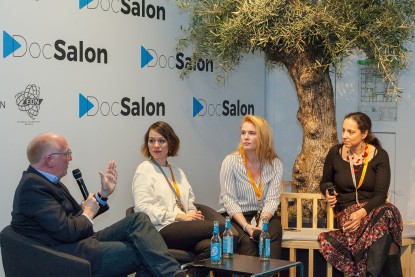 The DocSalon will focus on current developments and future challenges of the documentary industry in 5 different talks. Formats will vary from short presentations, moderated discussions with experts to one-on-one interviews with key players from the documentary landscape.
Contact
DocSalon
Stand 201, 2nd floor, Gropius Bau

Related Links
Schedule SalonTalks 2018

Friday, 16 Feb
Docs and VR - An Interactive Case Study
in collaboration with Sheffield/ DocFest
Speakers: Frederic Dubois, Charlotte Mikkelborg, Liz Rosenthal
Moderator: Dan Tucker (Sheffield Doc/Fest)
Saturday, 17 Feb
Pan-European Funding Schemes - Creative Europe and Eurimages
Speakers: Matteo Solaro, Gabriele Bertolli and Jolien Willemsens (Creative Europe MEDIA), Anton Calleja (Eurimages)
Moderator: Paul Pauwels (EDN)
Sunday, 18 Feb
Reaching the Audience - When, Where and How
in collaboration with DOK Leipzig, dok.incubator and IFP
Speakers: Margarete Jangård, RJ Millard, Freddy Neumann
Moderators: Brigid O'Shea (DOK Leipzig), Amy Dotson (IFP), Andrea Prenghyová (dok.incubator)
Monday, 19 Feb
From Idea to Premiere - A Case Study on Documentary Financing
in collaboration with Hot Docs
Speakers: Joslyn Barnes, Signe Byrge Sørensen, Tobias Jansson
Moderator: Dorota Lech (Hot Docs, TIFF)
Tuesday, 20 Feb
School Life - How to Make Local Global and How to Get it Financed
Speakers: David Rane, Neasa Ní Chianáin
Moderator: Paul Pauwels (EDN)