Blockchain in Motion
Saturday, 9 February 2019
Please note that the information currently given below refers to the EFM Horizon 2019 and is shown in order to offer a general insight. All relevant content will be updated as soon as it becomes available.
2019's blockchain focus followed up on the unique discussions started at EFM Horizon a year ago and looked into emerging developments and the current state of blockchain applications within the film and media landscape. The two-part Blockchain programme began with an interactive session in the morning and a panel discussion in the afternoon.
Contact
EFM Horizon
Berliner Freiheit, 10785 Berlin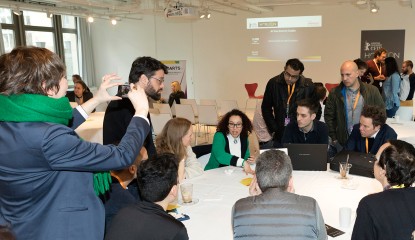 This hands-on, 2-hour event sheds light on case studies of Blockchain technology and the likelihood of industry adoption by the stakeholders, including producers, financiers, sales agents, and distributors. Through a variety of interactive exercises and activities, this event aims to make Blockchain accessible to all those interested in exploring it.
A diverse range of speakers will cover perspectives from financiers, entrepreneurs and industry professionals:
Jordan McGarry (Head of Talent Development and Production at Film London)
Manuel Badel (Badel Media)
FilmChain will run an interactive simulation to explain in a simple but effective manner what blockchain is.
The workshop session will allow startups to demo their already existing products, which are using blockchain technology to transform the creative industries. The tables will be moderated by established professionals from both film and tech. The format will enable each group of participants to discuss the platforms and understand their benefits, but also the challenges to becoming adopted worldwide. The moderator will present the takeaways from each group and Jordan McGarry will give feedback on each product.
Participating Blockchain Applications:
Cinezen
Cinezen is the world's first decentralized and community-driven Blockchain-VOD platform. Its Beta version is now live and it's looking to collaborate with rightsholders anywhere in the world.
FilmChain
FilmChain collects, allocates and analyses revenues for films, TV & digital on the blockchain. Their infrastructure solves trust in film accounting for a complexity of stakeholders and interprets data through machine learning and AI.
MinersINC
MinersINC is a blockchain-powered platform addressing security with unprecedented transparency. Their flagship live product MYNK is a curated BVOD service that enables micro-distribution based on incentivised social engagement.
Resonate
Resonate is a streaming music cooperative, owned by the members that use it. Utilizing blockchain tech for rights management, streaming stats, privacy and identity management.
Welt der Wunder TV
Welt der Wunder TV is creating a new blockchain-managed license, trading and sales platform for high-quality video content for international broadcasting, video-on-demand (VOD) and online video publishing sectors. The MILC token (MIcro Licensing Coin) is a utility token and payment medium within the platform.
White Rabbit
White Rabbit is professionalizing the peer-to-peer market to collect data and revenue for rightsholders. White Rabbit plug-in recognizes content streamed on peer-to-peer sites, allowing fans to pay the rights owners directly and immediately.
Table Moderators:
Manuel Badel (Badel Media)
Wendy Bernfeld (Rights Stuff)
Masha McConaghy (BigchainDB and Ocean Protocol)
Ricardo Mendez (Samsung NEXT)
Sten-Kristian Saluveer (Storytek Creative Hub)
Erwin Schmidt (FilmTech Office)
The event is dedicated to a variety of stakeholders of the creative industries: producers, financiers, sales agents, and distributors. No prior knowledge in blockchain is necessary.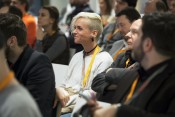 Of equal importance, the rights management of instant payments -- generating revenues for rights holders in different countries (whether they are contractual rights holders or non-contractual rights holders, i.e. crew members) -- requires a trustworthy platform. Our panelists will examine these issues in detail and provide a working framework on how these rights managements systems can possibly be implemented for a successful launch.
Speakers:
Stu Levy (Producers Guild of America)
Irina Albita (FilmChain and BigCouch)
Sam Klebanov (Cinezen Blockchain Entertainment)
Moderated by Kayvan Mashayekh (Producers Guild of America)