Opening Event
Friday, 8th February, 2019
10 - 11am
Please note that the information currently given below refers to the EFM Horizon 2019 and is shown in order to offer a general insight. All relevant content will be updated as soon as it becomes available. Please note that EFM Horizon events require pre-registration, which will be provided on this page in early 2020.
Contact
EFM Horizon
Berliner Freiheit, 10785 Berlin

Keynote by Alex McDowell (Experimental Design)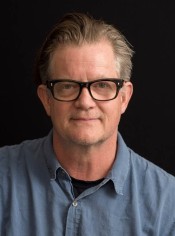 EFM Horizon 2019 will kick off with a visionary Opening Keynote by pioneer Alex McDowell, who will share his reflections on innovations set to disrupt the entertainment world.
Alex McDowell RDI is a narrative designer working at the intersection of design, technology and storytelling. He is the founder and creative director of Experimental Design; a Professor of Practice at the University of Southern California.
The keynote will be followed by a one-on-one focussing on insights on how to work today to prepare the future of our rapidly changing industry.
Moderated by AC Coppens (The Creatives Catalysts)