The Transforming Force of AI: Hype or High Potential?
An Outlook from Content Creation to Audience Analytics
Friday, 8 February 2019, 11.30 am - 1 pm
Please note that the information currently given below refers to the EFM Horizon 2019 and is shown in order to offer a general insight. All relevant content will be updated as soon as it becomes available.
Contact
EFM Horizon
Berliner Freiheit, 10785 Berlin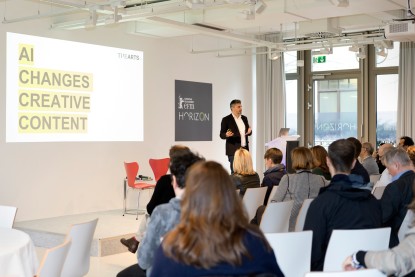 This block will map the status quo of AI in film and entertainment sectors by bringing developers, artists and practitioners together for a series of talks, interviews and debates to think through future scenarios and what they mean for the industry today in practical terms. Key questions to be addressed include:
From scriptwriting to marketing, which creative functions can also benefit from AI to start working smarter, not harder and let their imaginations run free?
How much closer are we to leveraging AI to automating all the headaches out of production, post-production and VFX workflows in 2019? Will the adoption of new systems create new challenges in itself, from grappling with stubborn resistance to change on the one hand, to automating colleagues out of jobs on the other?
For audiences, will the increasing ubiquity of AI tighten personalisation's stranglehold on their entertainment platform experiences? Or will they be won over not only by improved algorithms, but also the promise of new levels of interactivity and immersion, as AI-enhanced virtual humans and non-linear storyworlds become as rich and surprising as real life and real people can be?
Speakers:
Sadaf Amouzegar is Data Scientist at RivetAI, a pioneering startup building an AI platform that automates the tedious aspects of film production, allowing filmmakers to focus on the creative and human-centric aspects of their work.

Thomas Bendig is CEO of the Fraunhofer ICT Group, as part of the Fraunhofer-Gesellschaft. Within this group 19 institutes and 5,500 experts are working to provide applied R&D for a broad range of industries. The ICT Group is highly involved in the development of numerous media technologies.

Kathleen Schröter is Head of Marketing & Communications at Fraunhofer HHI, one of the 72 Institutes within the Fraunhofer-Gesellschaft, Europe's largest applied research organization with over 25,000 scientists. Fraunhofer HHI is e.g. very active in VR/AR and AI technologies as well as highly involved in the standardization of 5G, the next generation of mobile communication.

Moderated by AC Coppens (The Creative Catalysts)
---