Only Writers in the Building
Berlinale Industry Events
Access: Market Badge
If you are looking for the best-and-coming talents in European drama writing, don't miss Only Writers In The Building, a unique showcase of ten promising European writers committed to careers in the TV series industry trained by TorinoFilmLab and MIDPOINT Institute.
This must-attend event features ten talented scriptwriters from various countries and backgrounds, with a specific focus on their personal and professional approach to writing.
Five out of ten writers took part in the intensive training programme organised by TFL SeriesLab Talents, where they boosted their experience in drama series writing, working in a professional writers' room, under the guidance of an expert mentor.
While MIDPOINT Institute has selected five authors from the Writers´ Room workshop, an international and diverse writers' room simulation under the supervision of established and successful European/US showrunners and writers.
Moderated by pitch trainer Agathe Berman and renowned screenwriter Tony Grisoni, this event aims at an audience of producers, broadcasters, and financiers from around the world.
Ending up with an informal networking reception, it is the perfect occasion for writers and industry professionals to meet, build connections and get inspired in a creative matchmaking environment.
Only Writers In The Building is co-hosted by Berlinale Series Market and it is designed by TorinoFilmLab and MIDPOINT Institute, two leading European organisations, specialised in audiovisual training and development, which play a key role in nourishing the film and TV series industry with new emerging talents, equipped with the necessary tools to perform in a professional writers' room.
The event takes place on Monday 20th February 2023, from 4.00pm at Gropius Bau – Producers Hub, and it is realised in collaboration with ACE and EAVE. Gather some additional information on the speakers and other fascinating insights on the topic by downloading the catalogue of the Only Writers in the Building presentation (PDF).
Don't miss the opportunity to meet our emerging scriptwriters, who can bring added value to your writers' room and be a beneficial part of your creative team!
Speakers
Carla Grauls (she/her)
Screenwriter
TorinoFilmLab
© Angelo Aloscari
Fabrizio Muscia (he/him)
Writer and Director
TorinoFilmLab
© Ignacio Solis Navarro
Nach Solís (he/him)
Writer
TorinoFilmLab
© Uli Seis
Alice von Gwinner (she/her)
Writer and Director
TorinoFilmLab
© Wissam Andraos
Farah Abou Kharroub
Writer
MIDPOINT Institute
© Katerina Economides
Jonathan Farrelly
Writer
MIDPOINT Institute
© Stephanie Berger
Jared Fryer
Writer
MIDPOINT Institute
© Christian MacDonald
Zane MacDonald
Writer
MIDPOINT Institute
© Lucie Julia
Jesco Puluj
Writer
MIDPOINT Institute
Svitlana Topor (she/her)
Screenwriter
TorinoFilmLab
Moderators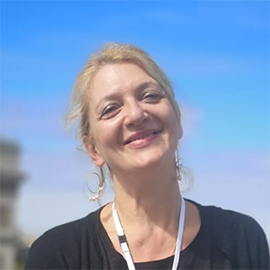 © Mendès
Agathe Berman
Pitching Tutor
Agathe Berman Pitchology
Tony Grisoni
Tutor, Moderator
TorinoFilmLab