EFM Participants in Focus
"EFM Participants in Focus" will highlight selected newcomers and feature up-to-date interview series with key players of the film industry on current market trends. Journalist and Producer Andrew Houchens meets up with producers, distributors and sales agents who share their opinion of the latest industry developments.
The Glashütte Original Documentary will award one deserving film of 16 nominees across various festival sections with a cash prize at Saturday's closing ceremony. The inaugural jury includes documentary moguls Laura Poitras, Morelia Film Festival Director Daniela Michel, and director and producer Samir. The power, reach, and prevalence of documentary is easily apparent over at the EFM's Meet the Docs, where the second floor MGB stand is constantly buzzing with filmmakers and industry eager to connect, and to share their experiences through events like Meet the Distributors and the Docs Talks series. The European Documentary Network (EDN) - organizer of Meet the Docs - celebrated its 20th anniversary last year, and is well aware of the moment docs seem to be having, but also the challenges that face those working in the medium. We spoke with EDN Director Paul Pauwels for more:
How important is it for you to attend the EFM each year?
Oh, it's very important. I think the Meet the Docs corner is becoming increasingly popular. It's always packed and people really do appreciate it. So many thank us for organizing it, for bringing people in touch with each other and initiating this personal contact, eventually helping people discuss collaborations and contracts. I must say that with all the collaborations we have with festivals and markets, this is my personal favorite. It's lean and mean, it's one week, so many people pass by, and it's a good feeling to go home and feel like we've made a difference. And I dare say that for so many people that have passed by, that we did make a difference. It's in the beginning of the year, spring is coming soon, so Berlinale gives us an optimistic feeling about what's going to happen.
How has the role of EDN changed in its relationship with filmmakers?
The role has very much changed. In the beginning it was introducing people to the European market and making it clear why co-production could actually enhance the quality and the number of documentaries. After a while people got to know the system and it shifted to training. First of all storytelling, and very much focused on pitching. How do you define what your story is about because that's the basis of everything - the famous logline - and how you pitch it to partners, broadcaster, and film funds. That is still very important. We still do the workshops, we still work really hard on the storytelling, we still work really hard on the idea of spreading European co-producing. But now there is a lot of attention on the business aspect. How you do build a sustainable company and how can you make a documentary and earn a living with it, when financing is very hard. So now I would say there's a lot of attention on everything related to business.
Congratulations on your 20th anniversary, that's quite an achievement. Did you do anything to celebrate?
We sang during the Forum in Amsterdam. We wrote a fantastic song about EDN and we actually stole the music from a famous group, who I won't mention here. We had been thinking of setting something up, but in the end we said the best way to celebrate is to continue what we are doing and put all the money and effort into that. We are not a rich association. Our workload is very heavy, we have more than 100 activities a year for a five-man crew. And we aren't the kind of people that like to applaud ourselves so we said you know what, at the Forum - the Vatican of documentary - why not do something? So we formed a choir, we sang in our own honor, and that's it. Now is a period that we started with some strong new initiatives, and we left it at that.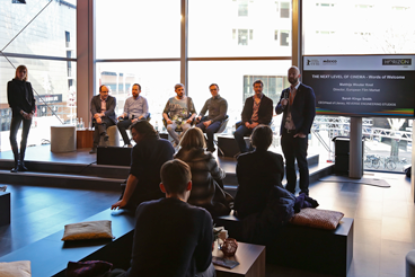 Presented by Audi and under the umbrella "EFM Horizon", EFM guests had the opportunity to experience a broader swath of VR projects this year and attend the VR NOW Con Business Mixer, to play interactive games in the MGB theater with Game Cinema, and to meet groundbreaking new startup companies through EFM Startups. And for the first time, the EFM partnered with the International Film Festival Rotterdam (IFFR), the international doc film festival CPH:DOX, and Berlin-based innovation studio Cinemathon to present the incubator program "Propellor Film Tech Hub." A kind of think-tank, Propellor focuses on the development of new business models in the production, distribution, and experience of films, and hosted a closed networking and workshop event during the Market for selects participants from the film industry and the tech sector. Finally, the EFM held an ideation session featuring case studies from leading companies and creatives in tech and film. The Next Level of Cinema event specifically explored topics of digitalism and innovation, with speakers including representatives from Audi, IBM, Dolby, and filmmakers David O'Reilly and Thomas Wallner. We spoke to Sarah Kinga Smith - event moderator and CEO & founder of Reverse Engineering Studios - to get her take on all things innovation:
Tell us about your experience with and connection to the idea of innovation?
I have a management and production technology company Reverse Engineering Studios, with offices in LA and London. Our focus is to create, recreate, and develop intellectual properties that are either original or underlined ideas, and brand them through talent like writers, directors, designers, artists, and technicians. We like to be platform, media, and format agnostic, meaning in today's world we don't see a point of boxing ourselves into specific formats. We tend to look at projects across the board, from traditional through digital. We look at new media as a form that was born digitally and globally, therefore we try our best to connect pieces and areas such as the creative world and the tech world, and we believe there is great potential for an ecosystem to be founded. And to give agency to not only creatives but to these designers and developers. That ecosystem first and foremost needs a pipeline and that pipeline needs to be filled with content, which is why we focus on IP.
You also gave the keynote at the EFM's VR CON Now Mixer. What do you hope the audience took away from your talk?
I want people to come away with questions and have a debate with emotion, from excitement to a bit of frustration to curiosity, and the feeling of being challenged. I want them to brainstorm. I want therm to look at technology and digital content as a better future rather than a post-apocalyptic, unavailable future that is just going to divide us among generations and content makers. I've been in the business for seven years, and it's painful to see how confusing the market recently is, how desperate and anxious some people get, but on the other hand, because of the ego and the nature of the industry, you can't really admit that things aren't going as expected. You can't really predict developments anymore, you don't really know what theaters are going to do, what TV networks are going to do, or what digital platforms are going to do. And it's frustrating to see how rather than collaborating with each other and figuring it out, we decide to compete against each other. We have to make it work together.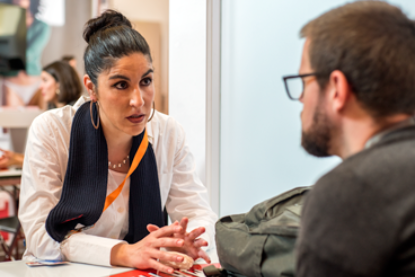 A diverse delegation of Mexican filmmakers and industry participated across several EFM events and programs, with Mexico also co-hosting Sunday evening's annual EFM Reception. Guests got down to a raucous electro-ranchera band and munched on traditional snacks from the Oaxaca region like shrimp ceviche, plantain fritters, and grasshopper tostadas for the more epicurious. Connecting the Mexicans to EFM trade is just part of the initiative, which will highlight a new country at the Market in each year to come. It's also an opportunity to showcase Mexico's vibrant and robust film scene and to let the Market know that Mexico has talent and is more than game to show it off, as well as to collaborate with partners worldwide. This was affirmed by the Mexican film institute IMCINE's Head of Production Cristina Velasco, who we spoke with to hear more about Mexico and its integration at EFM 2017:
What do you hope to achieve through Mexico in Focus?
We want to bring Mexican producers together with European producers, and especially German producers. Although we have very generous financial resources in Mexico to put films together, we still have the challenge of distribution and exhibition of our works. For us it's very important that our producers get European partners because that can assure - at least in Europe - distribution channels in TV, broadcasting, you name it. So for us it's not necessarily a matter of financial strategy but more a partnership for distribution of our work. We hope that by the various events we are able to keep building bridges between our producers and the European producers.
Is IMCINE doing anything in particular to address Mexico's distribution challenge?
We are trying to offer alternative distribution offers for our films from different exhibition circuits, through alternative online platforms - some operated by IMCINE - and just last year we started offering another fund supporting independent cinemas and video clubs. We are financing these small business to have state of the art technology to be able to have a program, whatever they chose, but they also have to show a certain percentage of Mexican films. If we can't break the monopolies, what we can do is be a facilitator to offer a new circuit of distribution, or at least alternatives. Our administration has been very successful in updating the policies of support, not only for making film but for releasing it and making it accessible to the public. Because it's taxpayer money, in the end.
How many films coming out of Mexico each year are co-productions?
About 35%, I would say. Last year we produced an average of 160 films with IMCINE funds and for us it's really important that these films are here at the European Film Market because we think this is the most strategic market for Mexican cinema. At the EFM's Visions section, we are presenting five recently finished films, and are looking for sales agents and programming opportunities so these films can get new partners. Mexico is the fourth biggest market in the world, so it means if you can put together a good film that appeals to an audience, you can make a profit because our market is very, very big and has a strong presence in America as well because of the Spanish speaking population. So we have a lot to bring to the table for a European producer. We have resources, we have talent, and we have the market, so what else could you ask for?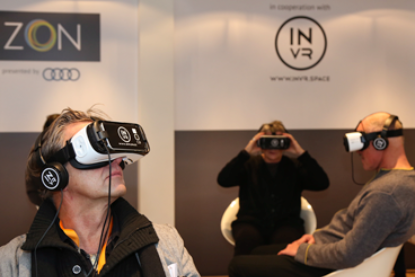 EFM guests will get to experience a curated selection of new and exciting VR films first-hand, including a number of projects direct from their Sundance premieres. In addition, for the first time the EFM is hosting an afternoon conference and networking event for the VR community and those interested in a closer encounter with the emerging platform. Taking place on Tuesday at the Berliner Freiheit, the VR NOW Con Business Mixer features talks and presentations by VR creators and professionals and gives space for veterans and newcomers alike to connect with each other. The Mixer is presented in cooperation with the Virtual Reality e.V. Berlin-Brandenburg. We chatted with VR director Adina Popescu, who participated on a panel exploring the finance, production, and distribution of VR content for mass audiences:
How do you see VR's role in the realm of the entertainment industry today, and its relationship to more "traditional" forms of media such as film?
It is a radically new medium. Every 100 years a new medium comes along - how exciting is that? At the beginning of film, people were still filming theater plays, as that was the format that they were used to, before slowly starting to develop a new language that was inherent to this new medium of film - like editing for instance. Today we are facing the same challenge: How do we tell stories in VR without just adapting old formats into the new? What is the inherent logic of this medium, allowing us to create an entirely new type of content?
Tell us about your background with VR and the projects you are currently working on.
My background is actually in philosophy - next to my studies I created large immersive installations as an artist that were presented at Galleries and Biennales internationally. So when I learned about Oculus in 2012, I immediately started to engage with the system. Today I am working closely with Scott Ross and Brett Leonard at Virtuosity Entertainment in LA. We are working on producing three of my narrative scripts in VR - all in progress. We are trying to avoid working with 360 video, but are working on bringing VR to a cinematic, interactive and visually stunning level that involves entirely new ways of capturing and building those "storyworlds", as we call them.
What is your plan for attending the EFM?
I have spent the past 8 years in the US, working with new tech and storytelling there. I'd love to get to know the movers in Germany and to reconnect with the place that I actually grew up in.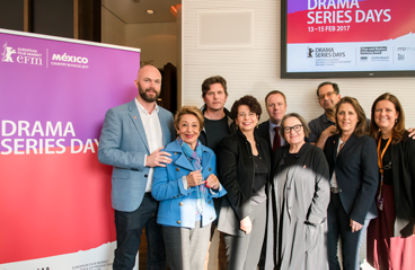 "I did my first TV fiction when I was twenty-something in communist Poland in the mid-70's. The most innovative mini-series came from Europe at that time. Fassbinder but also the German series Heimat was revolutionary, and of course the limited series of my close friend Krzysztof Kieslowski, Dekalog."

Suggesting that Europe today is catching up with the Americans in many ways, Holland encouraged the audience to "be courageous" and "to produce local content, full of quality, complexity, and originality." The third edition of Drama Series Days aims to encourage the same, hosting a variety of events over three days including a number of panels and talks, Market screenings of 20 new series, pitches in the Co-Production Market, and industry moguls and experts sharing their experiences at Berlinale Talents. We spoke with Christoph Schneider, Managing Director of Amazon Video Germany, and one of the many execs attending Drama Series Days: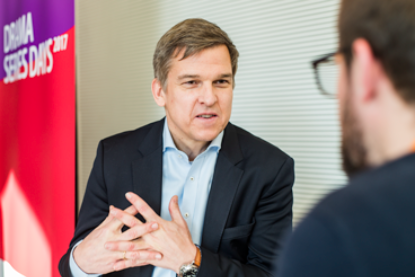 What are you looking for at Drama Series Days?
I have been coming here for five to six years and it's getting more and more exciting. We're always looking for new content. It's important mainly for us as a good place for networking. All the producers are here, so we can talk about new ideas and discuss projects. Projects which hopefully might be shown here next year.
You are now producing your own content. What's next for Amazon Video Germany?
Last year we started engaging with German producers to make our first German original series, a cyber crime drama. On March 17 we will launch it worldwide, so it will be the first German series ever ever to be launched on a global basis, in five languages and with subtitles. We have also dubbed it in English and it will be available in all Amazon markets. We are trying it, and if it turns out that Germans connect super well with Latin America or Australia, if there is demand coming from other territories, it can only help the German landscape. The good thing with us is we don't have a risk because of our platform. It's a chance for a product to get more worldwide visibility. If an international customer watches it and likes it then it's great. If not, no matter.
Do you feel there is major competition between Amazon and Netflix?
For sure they are one of our competitors, but at the end of the day it's one big player in the market that is just complementary. The overlap of content will appear but will really be a very small part. In Germany it's not a 'winner takes it all' game, you use various services. You have very different content options as a customer and if you want to see it all, you probably have to subscribe to various services. But I do think there will at least be a couple of services that will work well on a global basis. In the long run I'm sure that Amazon will play a very important role in worldwide streaming, probably as much as Netflix or other global players.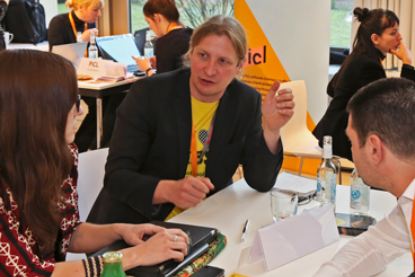 Mobisol (Berlin, Germany)
Paula Berning, Communications Manager
Mobisol is a unique company, without an immediately apparent connection to content industries. Tell us more about why you're here?
We provide solar energy to East African households using large rechargeable panels. We started in Tanzania in 2012 and have been selling solar power since, and are now at 70,000 houses across Tanzania, Rwanda, and Kenya. The system is paid by mobile SMS message in installments over three years, so it's affordable even to lower income houses. We are also now distributing appliances, stereos, and televisions that run on the power, which is why it's important for us now to be at the EFM. We want to showcase the growing market in sub-Saharan Africa, where many people are having a TV or tablet for the first time, and so now we are exploring content and getting a feel for what kinds of companies are here. We can actually integrate any content that we think might fit and ship it to our customers. Maybe even reaching people that other companies can't reach yet, because the places are so remote.
So you are looking to acquire content at the EFM?
For us now it's most important to meet people and let them know there is interest in the sub-Saharan market. Many think this market is very distant and maybe don't know how much business they can make, so it's our interest to showcase how our model is working. There are customers that use the systems for micro-businesses like village cinemas - for example, streaming the world cup for their village and taking a small fee for all watching - so there are these guerilla cinemas or small bars that have a large TV, and we are starting to look at content just trying to show that there are a lot of small stages, so to say, small stages for some good digital content to distribute.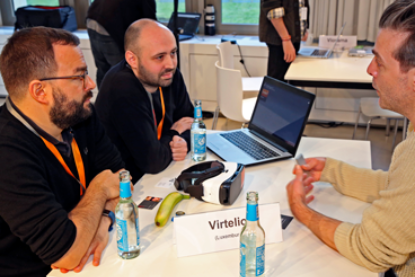 Virtelio by realab (Bertrange, Luxembourg)
Fred Baus, CEO and Wesley Deglise, Founder and CTO
Your product is storytelling-based and seems to be the first of its kind. Can you elaborate on how it works?
We created a VR editing software that allows anyone to create interactive VR movies with multiple storylines. The interactivity is based on the unconscious behavior of the viewer, meaning that the viewer watches the movie and depending on how he reacts, what catches his interest will evolve or can evolve in different directions. For us, immersion is very important and you as a viewer will never be asked "option A or B", you just watch the movie. So we work with hotspots which are invisible to the viewer, and the way he watches the movie will trigger different sequences. There are other companies that work more in "advertainment" where you have visible hotspots you click and get asked questions, but we really wanted to create a special tool for storytellers that enables them to tell more exciting and different stories.
Is this your first time at the EFM?
Yes, and we are very excited to be here. We want to share and showcase our technology and indeed, for people to know that we exist. But we are also looking for storytellers and movie directors who are looking to create VR work. We are also planning a fundraising campaign this summer, so we are looking for potential investors. And of course we want to expand our network. The idea is really about getting the news out so people know there is this technology, it's really easy to use, and you can save a lot of time and money with it. And to get people curious and really wanting to create interactive projects in the future with our technology.
Looking forward to trends and current developments in the audiovisual industry, Game Cinema takes place for the first time at the Market this year under the new "EFM Horizon presented by Audi" initiative. We spoke to Michael Liebe, CEO and Founder of Booster Space, who organized the event:
Tell us a bit more about Booster Space.
Booster Space is an agency organizing events around the gaming industry, and we're currently producing a VR video game. We organize International Games Week Berlin, a conference that we started in the city in 2014. Over seven days, we'll hold 10-12 gaming events within various venues and theaters throughout Berlin. Game Cinema started as one of our numerous events. And we are also organizing the VR NOW Con Business Mixer at the EFM.
How did Game Cinema come together?
Games and cinema share a tradition but have never really mixed, though we're both content industries so it makes sense to work together. Most would say the cinema experience is all about the movie theater, so it's basically the venue provider. It has the perfect infrastructure for playing: comfortable chairs, a big screen, it's digital, it has good sound and oftentimes now a bar, so it's like having an awesome living room. But instead of the linear format for cinema we have the interactive format of multiplayer games. Plus the cinema makes it a much more communal event. As we are getting older and more busy, we often want to go out of our homes for entertainment. It's getting more and more popular to play in public spaces, be it bars or festivals or other, so we are offering something on demand with Game Cinema.
What do you see happening now in gaming?
We are at a challenging time for the video game industry. Mobile gaming is growing super fast, there are a lot of international players, new creators from Africa, East and Southeast Asia, and the American market, so it's completely global now which is super exciting from a cultural point of view. But from an economic point of view it is very difficult for established companies to upkeep their revenue shares. And the mobile platform is an awesome gaming platform, but it's very difficult to actually earn money there. For the indie companies they are more likely to earn money on the PC platform. And mobile free-to-play disrupts pricing. Everything is always in continuous flux but at the moment we have a big challenge in monetizing content. And so what I also see as an opportunity with Game Cinema is to add new revenue channels for indie game developers for games to be played within movie theaters.
Do you have any particular goals at the Market?
First and foremost we just wanted to do Games Cinema because it's fun, but perhaps some of the distributors and movie theater chain owners or other potential partners will experience it and start talking to us, or perhaps they'll just copy it and we will sue them to death! But seriously, we just want to try it and see what the reaction from the crowd is. Learning by doing. This is just a first step with the EFM.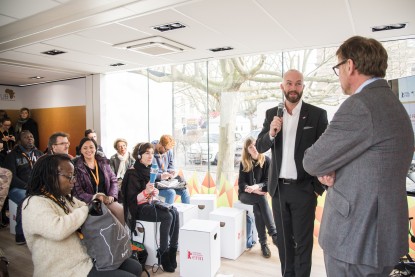 Guests mingled in the inviting Gropius Park space where remarks were made by initiative partner Dr. Andreas Görgen, Director General for Culture and Communication of the German Federal Foreign Office, who posited that "the issues of the 21st century will only be resolved by co-production between nations." EFM Director Matthijs Wouter Knol seconded this notion and the Hub's goals, stating that the Market "always wants to make it easier for people to connect, and that is what we are doing by opening this space." The Africa Hub will play host to a number of talks and panels through next week and showcases an exciting selection of African work-in-progress VR projects, presented by startup incubator, funder, and production company Electric South.
"Because so much of new media is mobile-based, and mobile is such a great model of distribution for Africa, the goal is very much about distribution," said Electric South co-director Ingrid Kopp. "We produced and incubated the projects on display here in Africa and by African artists with support from the Goethe Institute, so Berlin seemed like a great place to share them. It's important for these stories to be shown outside of Africa." Kopp and her co-director Steven Markovitz discussed Electric South and their first slate of VR projects at a Friday afternoon panel at the Hub, projects like Selly Raby Kane's kaleidoscopic The Other Dakar, a 360-degree experience where a young girl is chosen to discover the "invisible" Dakar. The project "comes from a real place of deeply knowing Dakar as a city, and I think that's something really special," said Kopp. "We are all trying to figure out what 360 and interactive VR is, and that is the crux of why I am so excited about Africa being involved. It's a chance for all of us to figure out this new form together so that later we aren't just playing catch up."
The significance of distributing African content abroad was also acknowledged by Serge Noukoue, Head of Development at Ivory Coast-based distributor Côte Ouest, one of the leading distributors of audiovisual content in Africa since 1993. "Africa is a big continent and is quite divided, but we have a slogan that is 'the united content of Africa.' So we try, through content, to create that identity and to allow Africans to know each other, but also to share this outside of Africa. There's no reason why quality content made in Africa - telling African stories - should not be seen by people without a relationship to us. It's about telling and enjoying stories, and that's what we believe in." In addition to distributing, Côte Ouest is also now producing its own content, something which Noukoue hopes won't go unnoticed at the EFM: "The idea is to go beyond Africa and to be able to sell to outside broadcasters. We want to bring Africa to the mainstream." Noukoue will elaborate on this in his Saturday presentation "Mainstream Africa: Solidifying Africa's Presence in the Global Conversation," at 11:00 in the Hub.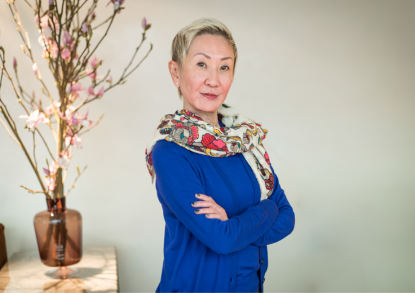 "Everything happened by accident", Shi says about her film beginnings. Having studied statistics and computer science in the UK, Shi returned to Hong Kong and immediately knew she did not want to work with computers and machines for her career. "That wasn't really my character. So I started working in TV and with a PR agency. That was good training for me." Shi eventually found her way to cinema - or rather, cinema found its way to her - and she was soon caught up in the Hong Kong "New Wave" of the late 70's and early 80's. "When I started with my company Cinema City I was the only non-filmmaker, director, or performer of the group, and my skills provided what they needed as an expanding production company." (Shi was also the only female of Cinema City's seven co-founders.) Asked how her early films found such popularity, Shi attributes this to Hong Kong filmmaking's shared "storytelling grammar" with Hollywood cinema, as well as the "tremendous energy" of the films for which audiences yearned.
Shi humbly asserts she's been "very blessed and pleased" about her achievements over the years. "At this stage in my life, I would like to further share my experiences and my network with filmmakers, because many people helped me that way." And the sage producer has been doing just that, running producing masterclasses worldwide, though by no means is she done with filmmaking. "My main focus is making movies and making more movies. That's what I do best." Shi says her top recommendations for an emerging producer are to "be a lifelong learner and listener, stick by your words, and be inspirational. 'How do you be inspirational?' is usually the next question", she laughs. It certainly must help to be as experienced as Ms. Shi.
Nansun Shi will be presented with the Berlinale Camera on Friday, February 10th at 12:15pm in the MGB Cinema by Berlinale Festival Director Dieter Kosslick, EFM Director Matthijs Wouter Knol, and Media Asia General Manager Frederick Tsui.
Related Sites