Berlinale Talents Market Hub
Contact
Berlinale Talents Market Hub

Each year, the European Film Market hosts Berlinale Talents at the Berlinale Talents Market Hub, which is supported by VFF - Verwertungsgesellschaft der Film- und Fernsehproduzenten. At its buzzing location in the gallery of the Gropius Bau, the hub serves as a contact and meeting point, offering new perspectives to both EFM participants and emerging film talents.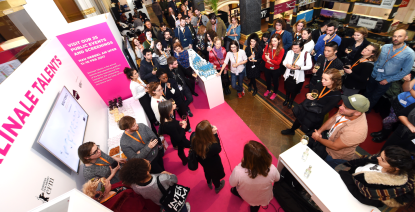 Talents participants not only gain insights into how the EFM works, but can also use this prominent platform to introduce themselves to trade representatives and establish sustainable industry contacts.
EFM visitors can discover outstanding new talents from all over the world, get a first look at 40 brand-new film projects developed in the Berlinale Talents project labs, and exchange ideas with up-and-coming distributors, sales agents and producers.