Berlinale Talents Market Hub
Contact
Berlinale Talents Market Hub

Each year, the European Film Market hosts Berlinale Talents at the Berlinale Talents Market Hub, which is supported by the VFF Collecting Society for Film and TV Producers. At its buzzing location in the gallery of the Gropius Bau, the hub serves as a meeting point for EFM participants and emerging film talent.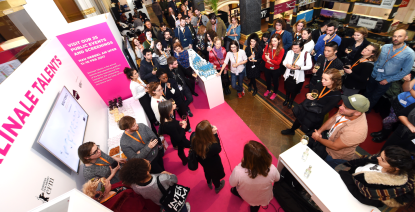 Berlinale Talents participants not only gain an understanding of how the EFM works, but can also use this prominent platform to introduce themselves to trade representatives and establish valuable industry contacts.
EFM visitors can discover outstanding new talent from all over the world, get a first look at 42 brand-new film projects developed in the various Berlinale Talents Project Labs, and exchange ideas with up-and-coming distributors, sales agents, and producers.
Project Labs Presentations
The Doc Station, Short Film Station and Script Station are Project Labs of Berlinale Talents where selected participants refine their new projects and present them at the European Film Market. The presentations take place at the Gropius Bau Cinema on Wednesday, 13 February 2019.
10 - 11.30 am Doc Station Presentation
12 noon - 2 pm Short Film Station Presentation
2.30 - 5 pm Script Station Presentation
Sales and Distribution Talents 2019
Meet the Berlinale Talents from the fields of Sales & Distribution at the EFM. Here, emerging distributors and sales agents can engage with seasoned experts, meet fellow distributors and benefit from each other's experience.
Stanisław Bardadin
Sales Agent
Poland
Digital Film Repository/
Kino Polska TV
Profile
Renato Galamba
Sales Agent
United States
FiGa Films
Profile
Talita Arruda
Distributor
Brazil
Vitrine Filmes
Profile
Samira Asgarova
Distributor
Azerbaijan
Cinema Distribution Azerbaijan
Profile
Shraddha Chauhan
Distributor
India
Drishyam Films
Profile
Síle Culley
Distributor
United Kingdom
Altitude Film Distribution
Profile
Dominga Ortuzar
Distributor
Chile
Cinemovil
Profile
Susana Santos Rodrigues
Distributor
Portugal
Karlovy Vary International
Film Festival
Profile
Fredrik Scholze
Distributor
Norway
Arthaus – The Art Film Foundation
Profile
Sydelle Willow Smith
Distributor
South Africa
Sunshine Cinema
Profile
Admission to all Berlinale Talents industry events requires a Festival Accreditation, Market Badge or Press Accreditation. Selected Berlinale Talents events are by invitation only.
For more information about Berlinale Talents events at the EFM, please visit www.berlinale-talents.de or consult the EFM Event Calendar.