Getting There & Around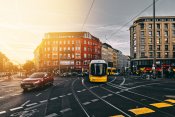 Guests travelling to Berlin for the European Film Market will find the city accessible and simple to navigate. Whether you are coming to Berlin for the first time or you are a regular, the EFM is central to the city and to the Festival it celebrates. Take a look at some of the tips we have put together for your travels and we look forward to welcoming you in Berlin. For searching for the best connections from A to B, we recommend using the online services of the BVG, Berlin's public transport system.
Train Stations
The most important train stations for you to know are Berlin's "Hauptbahnhof" (main station) and "Ostbahnhof" which is on the edge of the eastern inner city. Both stations connect to the S-Bahn urban rail network and numerous bus lines. It's an easy 5-minute taxi from Hauptbahnhof to Potsdamer Platz and 10 to 20 minutes from Ostbahnhof, depending on traffic. From Ostbahnhof it is a reliable 20 minutes by S-Bahn (change at Bahnhof Friedrichstraße) depending on traffic.
Airports
Berlin has one airport: the BER (Berlin Brandenburg "Willy Brandt") airport in the south of the city. BER airport is easily accessed via the express "FEX" train, the S9 train and other regional trains. Depending on traffic, travel time from the airport to the city centre / Potsdamer Platz ranges from 25 to 45 minutes.
Car
You can drive into Berlin from any direction via the A10 motorway / Berliner Ring. To reach Potsdamer Platz from the west, south or north, take the A115 or A110 and follow the signs to "Berlin-Zentrum West". If you are coming in from the east, just follow the signs to "Zentrum" – the city centre / Berlin Mitte, where "Potsdamer Platz" will be signposted.
Trains, Trams and Buses
Berlin has a very efficient and straightforward public transportation system. The U-Bahn (underground trains) and the S-Bahn (commuter trains) are the fastest and most used forms of transport in Berlin. Potsdamer Platz, the Berlinale's main event area, is served by the S-Bahn lines S1, S2, S25 and the U-Bahn line U2. If you are in Berlin for the first time, grab a free S- and U-Bahn map.
If you are spending time in the eastern parts of the city (such as Mitte, Prenzlauer Berg, Friedrichshain), it's a good idea to get a map of the tram network. The western half of the city dismantled its tram system in the 1950's, while in East Berlin trams remained an important form of transport and a characteristic feature of the cityscape. After the Berlin Wall came down the tram network was renovated and extended, so that in the eastern half of the city it is often quicker to travel by tram.
Berlin's bus system is a trusted mode of transport and sure to save you time. The main streets all have bus lanes so that even in rush hour the buses very rarely get stuck in traffic. If you get a chance, take a seat up top on one of the double-deckers; it's a great way to see the city.
Tickets for all public transport can be bought at ticket offices and machines in the U-Bahn and S-Bahn stations, as well as at newsstands and the ticket machines in trams. Tickets can also be bought from the bus driver, although it is a good idea to have the correct change ready. All tickets allow use of every type of public transport in Berlin. A single journey costs €2.90, a day ticket €8.60. If you will be in Berlin for a bit longer, it might be worth getting a travel pass for a weekend, week or month.
Bikes
Travelling by bike is very popular in Berlin. The city has a large network of bicycle paths, most of which run along the main streets. Many of the city's bus lanes can also be used by cyclists, often making it quicker to travel by bike than by car. Bikes can be rented and left anywhere in the city using Deutsche Bahn's "LIDL-BIKE". Simply use Deutsche Bahn's "Call a Bike" app to find available bikes near you. Other providers like "Mobike", "Nextbike", "Donkey Republic", "Limebike" and "Byke" offer a very similar service, all bikes can be booked and unlocked via a QR code. You can also opt for a pedal-assist electric bike like the one from "JUMP" for an even more easier ride. Drop-off-points can be found all over the city, including Potsdamer Platz.
Taxi
Taxis are available 24 hours a day throughout central Berlin. On busy streets, you won't wait more than 2 or 3 minutes for a free taxi to come along. Taxi stands are located at all airports and large train stations as well as at many of the city's central areas. You will find the taxi stand at Potsdamer Platz on Alte Potsdamer Straße. Good to know: For journeys of 2 km or less, it is possible to pay a flat fee of 6€. Just make sure to flag a taxi down on the street and ask for a "6 Euro Kurzstrecke" at the beginning of the journey.
Car Rentals
All major international car rental companies have branches in Berlin. However, please note that during the festival there is only a limited amount of parking space at Potsdamer Platz and subject to a fee. It is also necessary to pay for parking in many of the central areas in Berlin.
Related Sites