Berlinale Series Market & Conference
Contact
Chile in Focus
Jana Wolff

Chile Stand
Stand 138, 1st floor, Gropius Bau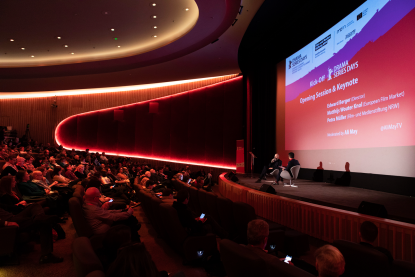 Berlinale Series Market & Conference, a joint initiative of the European Film Market, the Berlinale Co-Production Market and Berlinale Talents, organised in close collaboration with Berlinale Series, will once again host professionals from around the world for its three-day event and present an exciting programme of screenings, a selection of projects, inspiring talks as well as networking events.
Within the framework of this year's Berlinale Series Market & Conference, two events will highlight Chile's strengths in serial content.

The Berlinale Series Market Opening Reception is co-hosted by the Ministry of Culture, Art and Heritage Chile & Cinema Chile
(access by invitation only).
Related Links
Events
The principle "local product but global exploitation" does not only apply to original programming by the global streamers, but also to independently financed international co-productions. The co-producers from Invercine & Wood (Chile) and Story House Pictures (Germany) as well as the distributor Red Arrow Studios International (UK) of the television series "Dignity" will shed some light on how to develop, finance, produce and exploit audio-visual content without being a mere service provider for a commissioning streamer.
With
Tim Gerhartz (SVP Global Sales at Red Arrow Studios International)
Andreas Gutzeit (Head Writer and Executive Producer, Story House Productions)
Katja Hofem (CCMO & Managing Director, Joyn)
María Elena Wood (Creator and executive producer, Invercine & Wood)
Moderated by Kai May (Entertainment Lawyer, UNVERZAGT Rechtsanwälte)
Hosted by UNVERZAGT Rechtsanwälte
Access with Market Badge
Chilean series are having their time in the spotlight: Talent has been flowing between the film and TV industries like connected vessels, strengthening the cinematic quality and high volume of Chilean series productions. This crossover has cast a spotlight on Chilean TV content, and this showcase will present the following five top series and their producers:
María Elena Wood (Invercine&Wood) with Dignity
Juan Ignacio Correa (Fabula) with The Pack
Nicolás Acuña (Promocine) with Berko & The Weapons of Pinochet
Leonora González (Parox) with Invisible Heroes
Hernán Caffiero (Tridi Films) with A Suspended Mourning