Market Screenings
Please note that the information currently given below refers to the Drama Series Days 2019. All relevant content will be updated as soon as it becomes available.
Drama Series Days presents a programme of series market screenings. A handpicked selection of recently completed series (including short form and doc series) will be screened to potential buyers from around the world.
Drama Series Days screenings are accessible with Market Badge or a Press Accreditation. Please note that some screenings are accessible by invitation only.
Find the selected Drama Series 2019 Market Screenings below.
Related Links
MON, 11th Feb, 11.30 am
Zoo Palast - Cinema 5
__________________________________________
A WEDDING, FUNERAL AND A CHRISTENING
90' (Ep. 1+2)
Sweden
TrustNordisk ApS


MON, 11th Feb, 3 pm
Zoo Palast -Club A
_____________________________________
AFTER THE CRASH
48'
France / Belgium
Global Screen
MON, 11th Feb, 2.50 pm
Zoo Palast - Cinema 5
________________________________________
ARDE MADRID
63' (Ep. 1+2)
Spanien
Beta Film
---
WED, 13th Feb, 10.45 am
Zoo Palast - Cinema 5
________________________________________
AUTONOMIES
51'
Israel
Keshet
TUE, 12th Feb, 4.15 pm
Zoo Palast - Cinema 5
________________________________________
BAPTISTE
57'
Great Britain
All3media
TUE, 12th Feb, 10.00 am
Zoo Palast - Cinema 5
________________________________________
BELLA GERMANIA
92' (Ep. 1+2)
Germany
ZDF Enterprises GmbH
---
TUE, 12th Feb, 2.30 pm
Zoo Palast - Club A
________________________________________
BLOOM
53'
Australia
Sony Pictures Entertainment
MON, 11th Feb, 5.15 pm
Zoo Palast - Cinema 5
________________________________________
BULLETS
88' (Ep. 1+2)
Finland, Germany, Belgium
Sky Vision
WED, 13th February, 1.15 pm
Zoo Palast - Cinema 5
________________________________________
CHEAT
47'
Great Britain
All3media international
---
TUE, 12th Feb, 11.45 am
Zoo Palast - Cinema 5
_________________________________________
FAT
15'
Short Form Drama Series
Argentina
UN3
TUE, 12th Feb, 3 pm
Zoo Palast - Cinema 5
_____________________________________
FOLLOW THE MONEY III
60'
Denmark
DR Sales
MON, 11th Feb, 2 pm
Zoo Palast - Club A
_____________________________________
GENDER DERBY
54' (Ep. 1-8)
Short Form
France
Totem Films
---
TUE, 12th Feb, 11 am
Zoo Palast - Club A
_____________________________________
HARASSMENT
38'
Brazil
Estúdios Globo
TUE, 12th Feb, 1 pm
Zoo Palast - Cinema 5
_____________________________________
HOMEGROUND 2
48'
Norwegian
DR Sales
TUE, 12th Feb, 11.45 am
Zoo Palast - Cinema 5
_____________________________________
HOMECOMING QUEENS
14'
Short Form Drama Series
Australia
---
TUE, 12th Feb, 11.45 am
Zoo Palast - Cinema 5
_____________________________________
HOTEL PARADISE
17' (Ep. 6)
Short Form Drama Series
Denmark
TUE, 12th Feb, 12.00
Zoo Palast - Club A
_____________________________________
INSIDE
52'
France
France TV Distribution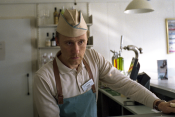 MON, 11th Feb, 2 pm
Zoo Palast - Cinema 5
_____________________________________
KIELER STREET
45'
Norwegian
ITV International

---
TUE, 12th Feb, 5.20 pm
Zoo Palast - Cinema 5
_____________________________________
MOCRO MAFFIA
83' (Ep. 1+2)
Netherlands
Dutch Features Global Entertainment
TUE, 12th Feb, 1.30 pm
Zoo Palast - Club A
_____________________________________
NISMAN - The Prosecutor, the President and the Spy
52'
Spain, Germany, USA
MON, 11th Feb, 4 pm
Zoo Palast - Club A
________________________________________
OTHER PARENTS
66' (Ep. 1+2)
Germany
Turner Broadcasting System
---
TUE, 12th Feb, 2 pm
Zoo Palast - Cinema 5
_____________________________________
SOUTH
45'
Portugal
Latido Films
TUE, 12th Feb, 11.45 am
Zoo Palast - Cinema 5
_____________________________________
STATELESS
12'
Short Form Drama Series
Turkey, Germany
36mm Film Network
MON, 11th Feb, 1.15 pm
Zoo Palast - Cinema 5
_____________________________________
THE NEW NURSES
40'
Denmark
REinvent Studios International Sales
---
TUE, 12th Feb, 4 pm
Zoo Palast - Club A
_____________________________________
WEST OF LIBERTY
88' (Ep. 1+2)
Germany, Sweden
ITV Studios Global Entertainment