Challenging Distribution 2020
Tuesday, 25 February, 2 - 3 pm (by Invitation only)
Please note that the information currently given below refers to EFM Horizon 2020 and is shown in order to offer a general insight. All relevant content will be updated as soon as it becomes available.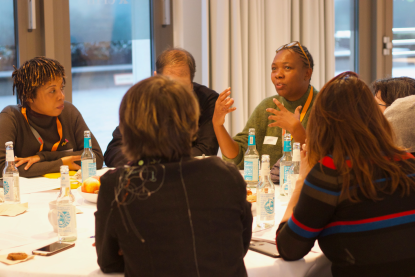 Given the changing landscape of film markets, it is crucial to look at attempts to innovate and disrupt traditional distribution models. This workshop will aim to give space to those taking risks and testing out new solutions, and will create an environment in which film industry professionals can come together and work on maximising the potential of those projects.
This hands-on workshop will consist of 3-4 challenges, each allocated to a round-table, showcasing an organisation or individual trying out new or alternative models of distribution.
Each round-table will focus on a specific problem encountered by the challenge-owner and will strive to generate new ideas or possible solutions. The event is jointly designed and organized by EFM Horizon and Next Wave, a creative incubator of young film professionals focused on radically rethinking exploitation chain and film market.
myNK - India's first micro-distribution enabled, community-driven Entertainment Platform, connecting content owners with content consumers directly over a secured & transparent network. myNK is a flagship product from MinersINC - curated, community-driven, blockchain-powered OTT platform for the Cinema & Music aficionado.
IFFR - Officially launched in 2018, Unleashed is the VOD platform of International Film Festival Rotterdam. It was designed to support independent filmmakers and connect them with online audiences year-round. The Unleashed space allows to feature films from the IFFR Tiger Competition, as well as specific programmes of the festival such as Scopitone or Bright Future. It also provides a wide selection of shorts that represent roughly half of IFFR programming.
Draken Film - Draken Film is an SVOD service started by Göteborg Film Festival in 2014. Available year-round to subscribers in Sweden, its editorial content, strands and collections provide new points of entry to its curated catalogue, showcasing some of the best arthouse and classic films from all around the world. Draken Film also presents a selection of short films and as of 2019, a section dedicated to children's films.
Filmin - Filmin is the leading Spanish VOD service for independent movies. The app and web's catalogue comprises more than 10,000 titles, among which you'll find, first and foremost, the best of independent and European cinema. Filmin continually feeds customers fresh, unexpected and versatile film collections. Whatever viewing mood you're in, there'll be something fitting in one of the platform's 400 collections.