EFM FilmTech Meetup: Female Founders Driving the Future of Film
Monday, 24 February 2020, 7.30 - 9.30 pm
A fireside chat live-recorded for the Film Disruptors podcast
Please note that the information currently given below refers to EFM Horizon 2020 and is shown in order to offer a general insight. All relevant content will be updated as soon as it becomes available.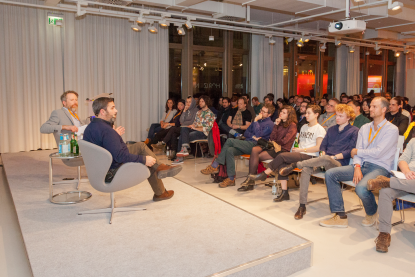 In their wide-ranging conversation, Nadira Azermai, Catherine Downes, Maria Tanjala and Alex Stolz will address the disruption currently happening in the international film industry, their views on how new technologies and the use of data are changing the film business, the current state of diversity in the industry, and their experience in building and growing a tech startup in this environment.
The FilmTech Meetup Berlin is a monthly speaker and networking event with the aim to explore the touchpoint between the film industry and the start-up & tech world. The February edition of the meetup will take place at the European Film Market during the Berlin International Film Festival.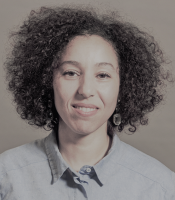 Nadira Azermai is Founder of ScriptBook, a high-tech company that provides artificially intelligent screenplay analysis and box office forecasts. ScriptBook was conceived when Nadira wrote her Master's thesis on using artificial intelligence to quantify story-parameters into a predictive model. This would enable content creators to assess their projects objectively and avoid financial failure.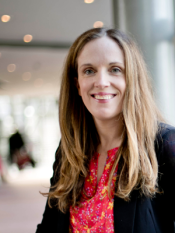 Catherine Downes studied her undergraduate degree at Trinity in Business Studies and Political Science and holds a Masters in Human Rights and Criminology Justice from Queen's University Belfast. After several years working in research in this area, she made a switch into the world of technology by joining Google in January 2008 and spent almost 7 years there, across different product groups. Her roles focused mainly on marketing, and sales partnerships. Her final role at Google saw her lead the global Google Certified Publishing Partner program which she worked on since inception and grew for almost 2 years across Europe and Asia, launching the first US partners before leaving to start usheru.
Catherine co-founded usheru 5 years ago with Ollie Fegan and Andres Macias with the ultimate goal to connect film marketing to the box office, and to provide consumer insight for film distributors. Venture-backed usheru currently operates across Europe, with technology products for film distributors, national film bodies and cinemas - the company is eyeing a 2020 expansion into the US.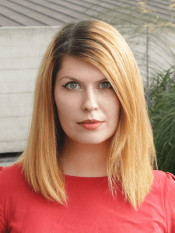 Maria Tanjala's background is in film production, from line producing, budgeting to distribution. She is passionate about tech solutions that bring transparency and automation in the creative industries, creating a level playing field for creators and enterprises. Maria Tanjala founded alongside Irina Albita the FilmChain platform that collects, allocates and analyses revenues for film, TV and digital content on the blockchain, replacing the traditional collection services with transparent, real-time payments from viewers to filmmakers. The founders won multiple film and tech awards and were Screen Awards "Gamechangers" nominees 2019.
Alex Stolz is a London based senior executive, strategist and broadcaster with high-level experience across Film, TV and Digital over 18 years. He is the producer of the Film Disruptors podcast, which is about sharing insights and expertise from the players reshaping the business and art of storytelling.
Speakers:
Nadira Azermai (CEO and Founder of ScriptBook)
Catherine Downes (CMO, COO and Co-Founder of Usheru)
Maria Tanjala (Co-CEO and Co-Founder of FilmChain and Big Couch)
Moderated by Alex Stolz (Film Disruptors, Podcast)
Contact
EFM Horizon
Berliner Freiheit, 10785 Berlin

Presented by