Eye to Eye: Creative Industries Vying for Consumer Attention
Sunday, 23 February, 10 - 11 am
Please note that the information currently given below refers to EFM Horizon 2020 and is shown in order to offer a general insight. All relevant content will be updated as soon as it becomes available.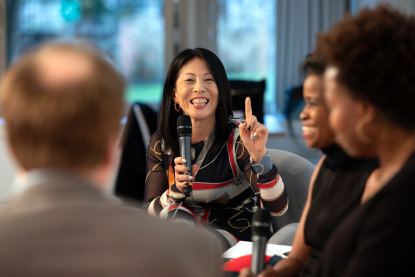 Every producer, no matter the creative industry, is facing fierce competition in the battle for attention of the media consuming public. Young people growing up in our digital world, constantly curate their personal playlists of films and series, live music and streams, games and e-sports. Meanwhile, advertising is no longer just a source of necessary revenue, but has become a content creator itself competing with classical entertainment. We take a broad look at how digital native creators and producers shape their stories, develop their audiences and build their communities and how they turn attention into value.
Speakers:
Gerhard Maier (Co-Founder & Artistic Director, Seriencamp Munich)
Moritz Merkel (Executive Producer, Stink Films and Head of Film & Sound at ADC)
Melissa Taylor (Founder/ Managing Director, Tailored Communication)
Funda Yakin (Director Media & Market Development, InnoGames)
Moderated by Per Sascha Zech (Curator Reeperbahn Festival Conference & Film Producer at OPTIMIST)
Presented by