DocSalon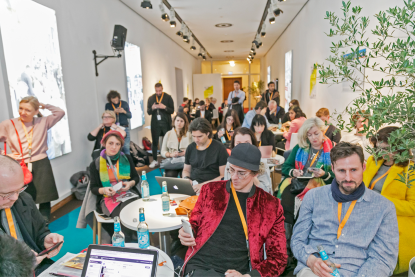 DocSalon is the hub for the documentary industry at the European Film Market. The platform promotes networking and exchange among buyers, sellers, directors, funders, festivals and producers of documentaries. Since its introduction in 2009, DocSalon has become a fixture at the EFM and an important contact point for the global industry.

The DocSalon programme looks toward the future of documentary filmmaking and strives to connect the international documentary community. Tailored networking formats invite participants to forge connections with leading experts of the industry while talks and other presentation formats give in-depth insights into the current documentary landscape and the challenges and opportunities that lie ahead.
Related Sites
In 2021 the DocSalon joins forces with all EFM platforms presenting the EFM Industry Sessions. The new programme offers online sessions containing various events: cutting-edge and interactive talk formats streamed live and available online, workshops, matchmaking and networking events. Not to be missed by anyone who wants to know what 2021 has in store.