DocSalon Toolbox Programme
Please note that the information currently given below refers to the DocSalon 2020 and is shown in order to offer a general insight. All relevant content will be updated as soon as it becomes available.
Contact
DocSalon
Stand 201, 2nd floor, Gropius Bau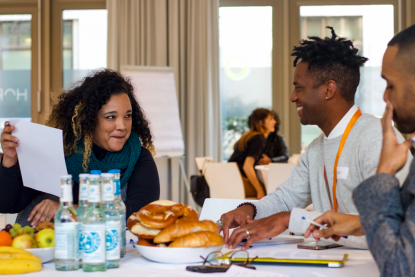 The DocSalon Toolbox Programme is a pilot initiative jointly developed between EFM DocSalon and EFM Diversity & Inclusion aimed specifically at international delegations of documentary creatives from underrepresented groups.
Based on existing DocSalon formats (Meet the Festivals, Face-Time with the Experts) and additional business modules (tailor-made workshops as well as one-on-one meetings and consultations), the programme provides a kit of transferable business know-how and connections under the guidance of a consultant and a coordinator.
This initiative is intended for entry-to-mid level feature-length documentary film producers or producing filmmakers from the documentary sector. As the DocSalon Toolbox Programme is designed specifically to endow documentary creatives facing equity gaps with market intelligence, business tools and connections, it is open to individuals belonging to underrepresented groups. Aimed at international delegations, the participants have been selected and funded by relevant international, national, regional and local agencies.
The DocSalon Tooblbox Programme is supported by Goethe Institut and received additional support from CMPA, Creative BC, the New Zealand Film Commission, Société de développement des entreprises culturelles (SODEC) and Telefilm Canada.
Supported by