Well-Being Well-Focused:
The Connection Between Creativity and Mental Health
Saturday, 22 February, 10 am - 12.30 pm
Please note that the information currently given below refers to EFM Horizon 2020 and is shown in order to offer a general insight. All relevant content will be updated as soon as it becomes available.
Contact
EFM Horizon
Berliner Freiheit, 10785 Berlin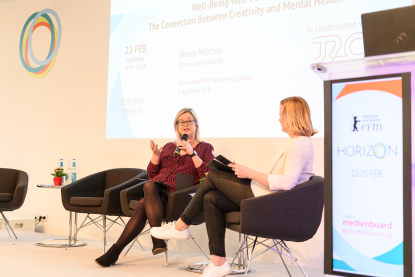 It's no secret: modern societies are going through large-scale social and economic changes. Digital transformation, artificial intelligence, a new work culture are affecting creative jobs. The number of stress-related diseases has increased in recent years, and not only have an effect on how we feel and perform, but have grown into a significant economic burden for companies and governments.
Are employers and employees capable of addressing these changes, are they helping their colleagues to stay creative, focused and ready for challenging tasks, sometimes under increasingly harsh circumstances? How do companies create a beneficial working environment for their staff while at the same time aiming to increase profit and success? And how exactly does a healthy mind boost creative potential?
In Collaboration with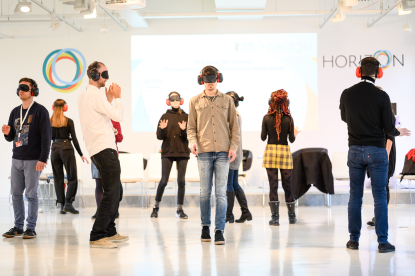 This session specifically explored mental health triggers in the creative industries, with a strong focus on film and music. Experts shared potential solutions when health is at stake in working teams, also tapping into new research by the UK Film and TV Charity that published the world's largest well-being study in the film and TV industries. Dr Ina Filla and Habib Lesevic from J2C brought examples of their work with fortune 500 companies and helped us to understand their findings on a neural and behavioural level with the example of simple practice.
At "Journey to Creation" (J2C) insides from system theory, sustainable entrepreneurship, neurosciences as well as design thinking and other disciplines are combined with contemplative methods like meditation, Qi Gong, Sound Journeys and even visual deprivation – all to put the HUMAN into the focus of systems and unveil creative and holistic thinking. Interdisciplinary work is key to J2Cs success.
Speakers:
Rebecca Day (Founder, Film In Mind)
Dr Ina Filla (Psychologist & Neuroscientist, J2C)
Franziska Koletzki-Lauter (Psychologist)
Ronny Krieger (Director Business Development, LANDR & Patreon, Board Member VUT)
Habib Lesevic (Entrepreneurship, Mindset, and Human Potential, J2C)
Moderated by Kathleen Schröter (Fraunhofer HHI) and Wendy Mitchell (Screen International).
Find the UK Film and TV Charity's Report The Looking Glass in our Industry Reports section.