Industry Reports
The selected industry reports below provide further insights into relevant topics of the film industry and beyond. The content of the listed reports reaches from building on topics previously discussed in the EFM Horizon programme to being of general interest concerning recent developments of the film industry.
Contact
EFM Horizon
Berliner Freiheit, 10785 Berlin

"Producing 2020" Report 2018
What Does the Future Look Like According to Producers?
Want to know which role European producers will play in the future? Ask them and you'll get a plethora of answers, many of them forcing you to change your ideas. Producers know they're hard to ignore in the avalanche of changes that's hitting the industry, and they see opportunities to become players to reckon with in the years to come.

A 'wall of ideas' was created in Berlin during a roundtable for selected producers, organized by EFM and McKinsey.
Download PDF
"Delivering through Diversity" Report
provided by McKinsey & Company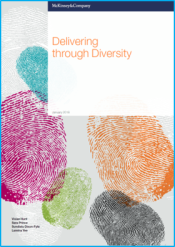 Awareness of the business case for inclusion and diversity is on the rise. While the moral imperative typically is the impetus behind these efforts, companies have increasingly begun to regard inclusion and diversity as a source of competitive advantage, and specifically as a key enabler of growth.
McKinsey's latest study of diversity in the workplace, Delivering through Diversity, reaffirms the global relevance of the link between diversity—defined as a greater proportion of women and a more mixed ethnic and cultural composition in the leadership of large companies—and company financial outperformance. The new analysis draws on data of more than 1,000 companies covering 12 countries, measuring not only profitability but also longer-term value creation, exploring diversity at different levels of the organization, and providing insight into best practices.
Yet progress on diversification initiatives has been slow and companies are still uncertain about how they can most effectively use diversity and inclusion to support their growth and value-creation goals. To address these uncertainties, the report also provides a perspective on how to take action on inclusion and diversity to impact growth and business performance as well as tangible case studies.
Download PDF
Related Links
Nostradamus Report: "Relevance in a New Reality"
presented by the Göteborg Film Festival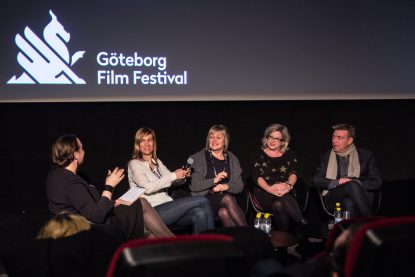 The 6th Nostradamus Report "Relevance in a New Reality" discusses the uncertain future of public funding, major movements on the streaming market, the role of cinema in the new value chain, potential paths forward for VR, and the need for a rebooted industry conversation around tech and shared challenges.
Download PDF