Live at Horizon
Please note that the information currently given below refers to the EFM Horizon 2018 and is shown in order to offer a general insight. All relevant content will be updated as soon as it becomes available.
"Live at Horizon" will feature up-to-date reviews on recent events and interview series with key players of the film and media industries on cutting-edge market trends and innovations. Journalist and Producer Andrew Houchens joins all EFM Horizon events and meets entrepreneurs, producers, distribution and sales agents sharing their opinions on the latest industry developments.
Contact
EFM Horizon
Berliner Freiheit, 10785 Berlin

Following morning keynotes by Archer Gray's Amy Nauiokas and Creative Europe MEDIA's Lucia Recalde, Horizon attendees participated in presentations and working sessions on artificial intelligence, hearing from a variety of AI experts and companies using the revolutionary technology to change the way they do business. THEARTS+ and Frankfurt Book Fair's Holger Volland posited that "AI changes creative content", sharing examples of the dozens of ways AI is revolutionizing the current tech and media landscapes. Proposing that Europe has a competitive advantage in the world market because of its historically strong storytelling traditions, Lucia Recalde suggested that the journey and process of exploring the future of our industries is up to all of us, and that valuing "diverse collaboration" among diverging sectors is what will bring us together - and move us forward.
Archer Gray CEO Amy Nauiokas shared her company's concept of "collabotrarian thinking," or brainstorming defined by collaboration and diverse, contradictory exchanges amongst colleagues. "If you arrive at a new business solution fairly quickly, you've probably missed an opportunity," she noted. Gray knows a few things about diversifying and thinking outside the box: her company Archer Gray meets at the intersection of media production and venture capitalism, also financing film and media projects and investing in early-stage technology companies. Gray stressed the importance of networking at the EFM, noting that she met and invested in the video platform startup Vigour at last year's Horizon. "Connect with your neighbors" and "try new experiences that scare the crap out of you", she added, suggesting that new business opportunities await the risk-taker in all of us.
Diversifying was also a buzzword at EFM 2018's first Industry Debate on the future of film sales, capping off the end of EFM Horizon Day 1. Cinetic Media's Dana O'Keefe said that sales companies are expanding into other sectors to adapt and thrive in today's shifting and challenging marketplace. Joined by Stray Dogs' Nathan Fischer and Heretic Outreach's Ionna Stais, the three companies represented on the panel collectively work in management, distribution, marketing, production, and exhibition, in addition to acting as "traditional" sales agents as their primary activity. Expanding your skill set seems to be crucial in order to compete in today's "harsh" marketplace, though O'Keefe said that the sense of camaraderie in the indie film world - although also very competitive - is very much alive and well, and relationship building is important as ever. Asked if any of the three sales agents are working in blockchain, they all answered "not yet", though O'Keefe quipped that getting a lawyer would be his advice for the disruptors and early adaptors out there already doing so.
Big data was a big topic on Saturday, something which leading international producers at the Producing 2020 workshop said was crucial to have access to, not only to better understand the marketplace but also to know more about your audience. With companies like Netflix keeping their data behind closed doors, the producers argued that more transparency in the industry would help improve their product and level the playing field during a challenging time for all. Big data was also key to Saturday's Industry Debate on diversity, with McKinsey and Company's Dame Vivian Hunt presenting a fascinating report on the positive impact of diversity on the economy. Dame Hunt correlated her findings to film and media, suggesting that diversity in the industry and sharing data on company and audience analytics can give filmmakers a competitive edge, and keep the market honest and transparent.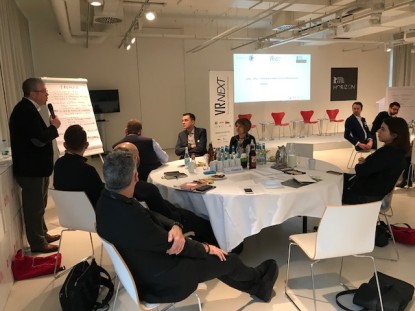 Sunday was all about virtual reality at EFM Horizon. What was on creators and distributors' minds at the VRNext Investors' Club brainstorming session? The same thing for those working in "traditional" content: money! With monetization relatively fresh to the blossoming medium and with new distributors popping up all the time, VR is poised to begin taking on much wider audiences, and to earn investors back their money in a way that was much riskier even just a few months ago. Established sales companies like mk2, Wide Management, and Dogwoof are now joining newer companies and diving into VR, opening greater opportunities in the marketplace.
At the standing room only VR NOW Summit, "linnear" IP connected to VR capabilities was suggested by VR platform Littlstar's Matt Collado as a way to help push the medium to mass audiences, and as further means of monetization. We're seeing this now in the short "making-of" VR on Wes Anderson's opening night film Isle of Dogs, introducing VR to a whole new audience of Anderson fans - many of whom likely haven't had much relationship to VR in the past. Collado argued that we need filmmakers like Anderson to start working in VR as a natural progression of the medium. Littlstar was previously free for all, but next month they'll finally be able to start charging subscriptions. "Let's make money together!" cheered Collado. With reliable business models still new and a bit elusive in VR, experts at the Industry Debate on VR monetization were nevertheless encouraging as well, suggesting that opportunities like festival screening fees are just another way to make back VR investment. In a landscape where new and different opportunities are being presented almost weekly, it seems like VR is finally becoming less of a sideshow curiosity and more of a viable medium to be mined and explored.
Data drove much of the conversation, with everyone wanting more access to it, but also better ways to interpret it in order to target and grow audiences. Only by talking more to each other will tech and online distribution improve their relationship, and their relationship with audiences - key to the success of both!
Blockchain was also an interesting proposition at the Tech & Distribution session, which was explored in-depth at Monday's chock-a-block full Let's Change with Blockchain! workshop presented with Telefilm Canada. The Canadians seem to be driving innovation in the emerging technology, with many "traditional" Canadian distributors and content creators moving toward blockchain. "We're finding it's much better than the existing distribution model," said Glenn O'Farrell of Groupe Média TFO. Most participants at Monday's EFM Startups pitches would agree, with Canadian startups Ova and Three Lefts presenting their recent successes in blockchain. The 2018 class of Startups can be found at Pop-Up booths in the MGB, where market attendees can learn more about the work of each of the 10 tech and media companies.
New York sales and production company FilmNation is no stranger to driving innovation, either. At Monday evening's Propellor FilmTech Meetup in conversation with CEO Glen Basner, Basner charted his successes and challenges since starting FilmNation 10 years ago. FilmNation is now working in series and theater, in addition to its centerpiece: film. Citing increased opportunities for production and distribution, Basner said he was optimistic about the future of entertainment - even in our current disruptive age - but admits he's also "completely scared." Eek! Taking chances seems to be FilmNation's M.O., though, and it has certainly worked for them.