VR at EFM
VR at EFM is represented in different ways, with the VR NOW Summit as well as the EFM's 360° VR Market Screenings.
Contact
EFM Horizon
Berliner Freiheit, 10785 Berlin

VR NOW Summit
Monday, 24 February
The way how stories are told changes constantly. A new technology, or the rise of a new medium also alters forms of storytelling and audience expectations. One of the greatest changes in storytelling comes with immersive media – Virtual Reality and 360 video. The EFM VR NOW Summit at the Berliner Freiheit demonstrates how film, television and immersive media are all coming together.
While the 2018 EFM Horizon edition showed that VR is continuously evolving into a viable section of filmmaking, the previous edition highlighted the transformation of VR from challenged to established art form and audience-accepted medium. In the upcoming 2020 VR NOW Summit we are excited to follow up VR's latest developments in reach, monetisation and much more.
Get excited about how entertainment is advancing today, get inspired by fantastic stories and opinions of international VR figureheads, and connect with content creators, producers and IP owners from both worlds.
Please note that the information currently given below refers to the VR NOW Summit 2019 and is shown in order to offer a general insight. All relevant content will be updated as soon as it becomes available. Please note that this EFM Horizon event requires pre-registration, which will be provided on this page in early 2020.
WHEN
WHAT
1 pm
Open doors
1.20 pm
Welcome address by Matthijs Wouter Knol (EFM), Stephan Schindler (VRBB), and Tim Rittmann (Booster Space)
1.30 pm
Presentation by Liz Rosenthal (Founder of Power to the Pixel, Venice VR)
A Distribution Map for Immersive Content
2 pm
Presentation by Joanna Popper (Global Head of Virtual Reality for Location Based Entertainment)
Around the World in LBE
2.30 pm
Presentation by Bob Cooney (Speaker, Author, Mentor)
Out of Home Entertainment – Immerse Yourself into LBE Business
3 pm
Presentation by Alexander Knetig (Director of Digital Department at Arte)
Distribution and Co-Production of Immersive Content
3.30 pm
Networking "Caffeine & Recreation"
4 pm
Industry Debate presented by IFA, in collaboration with Variety
Moderated by Henry Chu (Variety)
Value-Added VR: Boosting Film and TV With Virtual Reality
5 pm
Presentation by Salar Shahna (World VR Forum)
Entering New Terrain
5.20 pm
Presentation by Ioulia Isserlis, Max Sacker (AnotherWorld VR)
"Kobold" and "Der Pass"
5.40 pm
Presentation by Stefan Kreuzer (rcp)
Submerging into Virtual Worlds
6 pm
Networking "Cold Drinks & Recreation" at The Grand
360° VR Market Screenings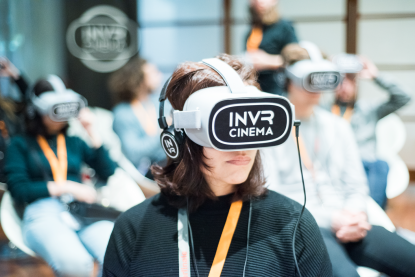 Related Links