VR at EFM
VR at EFM is represented in different ways, with the VR NOW Summit as well as the EFM's 360° VR Market Screenings.
Contact
EFM Horizon
Berliner Freiheit, 10785 Berlin

EFM VR NOW Summit
Monday, 24 February, 1.20 - 6 pm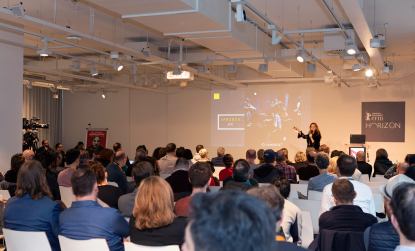 The way how stories are told changes constantly. A new technology, or the rise of a new medium also alters forms of storytelling and audience expectations. One of the greatest changes in storytelling comes with immersive media – Virtual Reality and 360 video. The EFM VR NOW Summit at the Berliner Freiheit demonstrates how film, television and immersive media are all coming together.
The previous edition highlighted the transformation of VR from challenged to established art form and audience-accepted medium. The 2020 EFM VR NOW Summit looks at Virtual Production and thus at VR's potential for filmmaking and its capacities for more sustainable production. Additionally, the EFM VR NOW Summit aims to start a conversation about realistic expectations on VR's disruptive power and sketching out its possible trajectories.
Get excited about how entertainment is advancing today, get inspired by fantastic stories and opinions of international VR figureheads, and connect with content creators, producers and IP owners from both worlds.
In order to attend, please arrive at the venue 15 minutes prior to the start of the event. Seats are available on a first come, first served basis. Please note that all EFM Horizon events require a Market Badge or a Press Accreditation.
WHEN
WHAT
1 pm
Open doors
1.20 pm
Welcome address and introduction by Ioulia Isserlis (VRBB) Tim Rittmann (Booster Space)
Film & VR
1.30 pm
Keynote followed by fireside chat with Caleb Deschanel (Director of Photography, THE LION KING)
Virtual Production - Is VR a Revolution of Filmmaking?
2.30 pm
Talk with Peter Popp (CEO, Reef & Softmachine)
Immersive Content Production of Fulldome Experiences and Beyond
3 pm
Hot Drinks & Recreation
3.30 pm
Presentation by Alberto Marcos (Business Development Manager, Zero Latency)
Free-Roam VR - The New Frontier of Entertainment
4 pm
Presentation by Maria Courtial (Co-Founder & Managing Director, FaberCourtial)
1st Step – This View Changes Everything
4.30 pm
Panel with Caleb Deschanel (Director of Photography, THE LION KING), Alberto Marcos (Business Development Manager, Zero Latency) and Ferhan Özkan (Co-Founder & CEO, VR First)
VR in the Year 2020 - Between Disruptive Power and Unfulfilled Expectation
5.15 pm
Talk with Axel Steinkuhle (CEO, evrbit) and Stephan Heininger (Head of VR / AR, Telekom Germany)
And This Was Just the Beginning – Insights of Pioneering VR Mass Operations
Following the talk, we will present the world premiere of "Project Witness: An Immersive Experience Inside Child Incarcination" by Black Dot Films VR.
6 pm
End of Summit
360° VR Market Screenings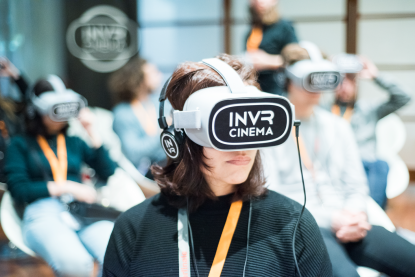 Related Links