360° VR Screenings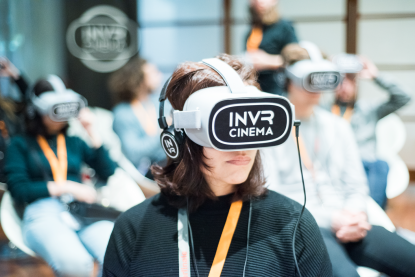 The 360° VR Screenings will be presented at the new screening venue "EFM VR Cinema". Thanks to our cooperation partner INVR, who will be providing the latest Oculus Rift technology, VR content can be presented under ideal conditions. The EFM VR Cinema is located right next to Berliner Freiheit within convenient walking distance from the Marriott Hotel. Please note that, although you can access VR market screenings with a regular festival accreditation, Market Badge holders will be prioritised.
Related Sites
Technology Partner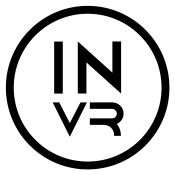 Screening Schedule & VR Library
Location: EFM VR Cinema
Opening hours: The cinema is open daily from 10 am - 6 pm.
Experience all VR projects in the VR Library from 21 - 25 February 2020.
tx-reverse 360°

Directed by Martin Reinhart, Virgil Widrich | LEMONADE FILMS | 5'

What is behind the cinema screen? In a way never before seen, tx-reverse shows this collision of reality and cinema and draws its viewers into a vortex in which the familiar order of space and time seems to be suspended.
___________________________________________________________________________________________________
VR Free

Directed by Milad Tangshir | Associazione Museo Nazionale del Cinema | 10'

Exploring the nature of incarceration spaces by portraying slices of life inside the Turin prison. The film also captures the reaction of several inmates during brief encounters with immersive videos of life outside of prison.
___________________________________________________________________________________________________
Go/Los

Directed by Sandro Zollinger, Roman Vital | Montezuma Film | 25'

Searching for stability in his life, Thaler sets out on a hike in the Swissmountains from which he will never return. Symbiosis of literature & VR tells a story of everyday and final farewells, thus opening the door to eternity...
___________________________________________________________________________________________________
267

Directed by Petna Ndaliko Katondolo | Alkebu Film Productions | 9'

267 an homage to 267 people displayed in the 1897 Congolese Village in Belgium.This was in essence an immersive experience for fair-goers, but one in which Congolese had no agency.
___________________________________________________________________________________________________
Here

Directed by Shelley Barry | Electric South | 10'

"Here" is a music and dance performance by Johannesburg artists with disabilities, celebrating their craft while reimagining their city as an inclusive and fantastical space.
___________________________________________________________________________________________________
Le Lac

Directed by Nyasha Kadandara | Electric South | 10'

"Le Lac" is a dreamscape where liquid gives way to dust. The oasis of the Sahel, Lake Chad, is not who she used to be. Ninety percent of her water is gone, leaving her feeling depleted, wary, scared and insecure.
___________________________________________________________________________________________________
The Forgotten Ones

Directed by Charles Muchiri, Isa Mohamed, Mufasa The Poet | Black Rhino VR | 4'

A 360° immersive narrative that delves you into the world of the largest dumpsite in Eastern Africa, told from the perspective of the dumpsite itself. You explor4'e a plethora of thoughts that run through the dumpsite's fictional mind.
___________________________________________________________________________________________________
Azimuth

Directed by Nirma Madhoo | Electric South | 7'

"Azimuth" is a short fashion VR film that explores stylised brutalist architectures as a triptych to fashion performances and an immersive ambisonics original score.
___________________________________________________________________________________________________
Daughters of Chibok

Directed by Joel Kachi Benson | VR360 Stories / JB Multimedia Studios | 11'

VR360 Stories a storytelling brand, that leverages on the power of immersive experiences to project unique African content to the world. Our films received global recognition, and the Venice Lion for Best VR Story.
___________________________________________________________________________________________________
Lagos at Large

Directed by Jumoke Sanwo | Electric South | 10'

History, colonialism, growth, nostalgia, decay and transformation collide in this introduction to Lagos, as three characters mould the identity of their megacity and where they belong in it.
___________________________________________________________________________________________________
African Space Makers

Directed by Vincenzo Cavallo | TheNrbBus – Cultural Video Prodcution Kenya | 2'

The first-ever interactive VR mockumentary series made in Africa on space making and urban heroes. Choose your character, jump on the bus and start to explore the city creative spaces like a real African filmmaker.
___________________________________________________________________________________________________