Profile Berlinale Co-Production Market
The Berlinale Co-Production Market is a four-day event for about 600 international producers, sales agents, distributors as well as broadcasting and funding representatives who are active in international co-productions.
The 16th Berlinale Co-Production Market takes place from Saturday to Wednesday, 9-13 February 2019.
Each autumn, producers and financiers looking for projects can apply to participate.
The deadlines for project submissions and to apply to participate at the Berlinale Co-Production Market 2019 have passed. Find more information about participation here
Contact
Martina Bleis, Co-Head
Official Projects, Co-Pro Series, Press
Kathi Bildhauer, Co-Head
Programme, Talent Project Market
Ulrike Schmidt
Partners & Visitor Programme
Henning Adam
Books at Berlinale
Andrea Hoffmann
Co-Pro Series
Lisa von Swieykowski
Finance & Administration
Potsdamer Platz 11
D-10785 Berlin
+49 30 259 20 517
fax +49 30 259 20 529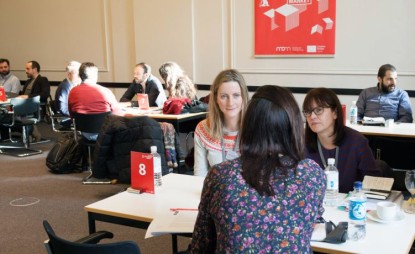 Each participant can request 30-minute one-on-one meetings with the producers of the selected projects he/she is interested in as a potential partner. These meetings are set up by the Berlinale Co-Production Market team according to the availability of the participants during the given meeting slots. Each participant receives his own customised meeting schedule two to three days before the event.
Intensive individual support in order to "make perfect matches" is part of the service offered by the Berlinale Co-Production Market. The team is ready to provide assistance.
Additional one-on-one meetings can be requested with 5 hand-picked, highly experienced international companies in the Company Matching Programme. These meetings are not centred around single projects, but offer room for structural exchange, for example to discuss business ideas, company strategies and potential common grounds for potential collaborations and international alliances.
Further to the one-on-one meetings, participants can find the latest hands-on information and make new contacts through the many networking opportunities during the market.
Panels and Case Studies on Berlinale films elaborate on current trends in co-production and financing opportunities and during Theme Talks, participants can exchange experiences with experts and colleagues on selected topics. At the "Country Sessions", experts provide information about production conditions and co-production opportunities in their particular country. During Speed Matching sessions, participating producers can make new contacts during successive, informal 5-minute meetings.
First launched in 2006 in cooperation with the Frankfurt Book Fair, Books at Berlinale (next edition: 11th February 2019 at the Berlin House of Representatives, tbc) is the world's first market for literary adaptations at an A film festival. Around ten selected books with a high potential for screen adaptation are presented by international publishers and literary agents. Interested producers can get in touch with them at the Networking Get-Together following the pitch.
Co-Pro Series (next edition: 12th/13th February 2019 at the Zoo Palast Cinema) aims to cater for an additional, growing field of interest of our participants: On the additional, fourth day of the Berlinale Co-Production Market, eight international drama series projects that are looking for partners are presented, and interested co-producers and financiers can meet them informally at a get-together, as well as in pre-scheduled one-on one meetings.
The Berlinale Co-Production Market was initiated to become a "home from home" for international producers and financiers attending the Berlinale.
Here they find what they usually look for at a festival: high-quality international projects, excellent business contacts and new opportunities for co-operations - an ideal platform for their networking.
In addition to the individually tailored meetings and the targeted programme, the Berlinale Co-Production Market's Producers Lounge at the Berlin House of Representatives provides room for informal meetings.