News - Berlinale Co-Production Market
Calls for Feature and Series Projects Open Now
Till September 1, submissions are still open for the Talent Project Market in cooperation with Berlinale Talents. 10 projects will be selected for the Talent Project Market 2022. Find more information here
Till September 30, experienced producers from all over the world are invited to submit their new feature-length fiction projects with a budget range from 1 to 20 million Euros, with at least 30% of financing (or the local production funding) already in place, for which they are seeking international co-production and financing partners. Ca. 20 of them will be selected and presented at the Berlinale Co-Production Market 2022. Find details here.
Drama series projects in development and financing stages can be submitted for Co-Pro Series till October 15. A selection of 10 projects will be presented at the Co-Pro Series Pitch and Networking event. Check here how to submit drama series projects.
In October/November, literary agents and publishers can submit novels for Books at Berlinale, to be held in cooperation with Frankfurter Buchmesse. Find out more here
Also in November, producers, sales, distributors, representatives of funds, distributors, TV channels and VOD platforms looking for projects, can apply to participate at the Berlinale Co-Production Market without a project.
CoPro Podcast Episode with Ewa Puszczynska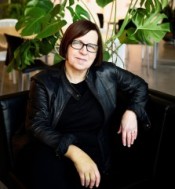 We had the pleasure to help prepare our colleagues' podcast, EFM Industry Insights.
For episode Number 6, we checked in with producer Ewa Puszczynska, who is not only a regular at the Berlinale Co-Production Market, but also known for Academy Award-winning Ida by Pawel Pawlikowski, as well as recent Berlinale films like Kill it and Leave this Town by Mariusz Wilczynski (Encounters 2020) or as a co-producer of the Academy Award-nominated Quo Vadis, Aida?
Moderator Johanna Koljonen spoke with Ewa about her own, very personal approach to life as a producer and to the art of film. Find it here.
Exciting Films, a Golden Bear and an Academy Award Nominee at the Summer Special
The Berlinale Co-Production Market took place March 1-5, and 4 of our previous projects screened as part of the Berlinale programme:
Among them is the Golden Bear-winning BAD LUCK BANGING OR LOONY PORN by Radu Jude, which was a project at the Berlinale Co-Production Market 2020 and got made during the pandemic.
COPILOT by Anne Zohra Berrached and HUMAN FACTORS by Ronny Trocker both screened at Panorama and JE SUIS KARL by Christian Schwochow was part of Berlinale Special.
Furthermore, four female Berlinale Co-Production Market selected directors from previous years participated in Berlinale juries 2021: Jasmila Zbanic, whose QUO VADIS, AIDA? took part at the Berlinale Co-Production Market in 2016 as well as Adina Pintilie, Ildiko Enyedi and Albertina Carri who have all had projects here.
Projects on the road to success: Three awards and 1,300 meetings at the Berlinale Co-Production Market
Berlinale Co-Production Market 2021 Awards Ceremony © Lydia Hesse
At the 18th edition of the Berlinale Co-Production Market (March 1-5, 2020), 35 new feature film projects met with international co-production and financing partners. More than 1300 individually requested one-on-one meetings were scheduled between the participants. Three monetary awards were presented to selected feature film projects: The Eurimages Co-Production Development Award, the VFF Talent Highlight Award and the ARTEKino International Award.
The selected projects and companies can be seen here
The Eurimages Co-Production Development Award, endowed with 20,000 euros, went to the project The Oblivion Theory (director: Annemarie Jacir), presented here by producers from the companies Incognito Films from France, and One Two Films from Germany. The EUR 6,000 ARTEKino International Award went to Who Killed Narciso by director Marcelo Martinessi, produced by La Babosa Cine from Paraguay. The VFF Talent Highlight Award, endowed with 10,000 euros, was given to the project Tropical Gothic (director: Isabel Sandoval) from the USA, presented here by producer Carlo Velayo.
This year's Berlinale Co-Production Market also presents 10 selected books that lend themselves perfectly for screen adaptation, which are presented at "Books at Berlinale", and 10 brand new drama series projects, which were presented at the "Co-Pro Series" Pitch.
Five films that were made after participating in previous editions of the Berlinale Co-Production Market were selected at Cannes: Compartment No. 6 by Juho Kuosmanen screened in competition and shared the Grand Prize of the jury, Let it be Morning by Eran Kolirin and Moneyboys by C.B. Yilin were part of Un Certain Regard, Are You Lonesome Tonight? by Wen Shipei is a Special Screening and Our Men by Rachel Lang was selected for Quinzaine.
Four co-productions from previous editions were part of the Berlinale 2021 selection, among them the Golden Bear-winner, Bad Luck Banging or Loony Porn by Radu Jude as well as Je Suis Karl by Christian Schwochow (Berlinale Special), plus Copilot by Anne Zohra Berrached and Human Factors by Ronny Trocker in Panorama.
Two of our previous projects were shortlisted for the Academy Award for Best International Film:Quo Vadis, Aida? by Jasmila Zbanic, which also got nominated, and had premiered at Venice last year, and Charlatan by Agnieszka Holland, which was part of the Berlinale Competition 2020.
Last year's releases include two further Venice entries, Nowhere Special by Uberto Pasolini and Gaza Mon Amour by Arab and Tarzan Nasser, as well asAll the Pretty Little Horses by Michalis Konstantatos (Sarajevo/Shanghai), Flee by Jonas Poher Rasmussen and The Death of Cinema and My Father too by Dani Rosenberg (both Official Selection, Cannes 2020).
Also in 2020, the Academy Award for Best Adapted Screenplay went to our Berlinale Co-Production Market 2012 project Jojo Rabbit by Taika Waititi, which received six nominations.
More than 330 feature film and 19 series projects from previous editions have meanwhile been made and have been shown at festivals and in cinemas worldwide.
Find the complete list of realised films in the archive