News - Berlinale Co-Production Market
Open Calls & Applications & Deadlines
The call for feature and drama series projects opens today, August 16!
Timeline and links for our 2024 edition:
July-September 4: submissions are open for the Talent Project Market in cooperation with Berlinale Talents. 10 projects will be selected for the Talent Project Market 2024. Find more information here
August 16 to September 21: Call for the Official Selection: Experienced producers from all over the world can submit their new feature-length fiction projects with a budget range from 1 to 20 million Euros, with at least 30% of financing (or the local production funding) already in place, for which they are seeking international co-production and financing partners. Ca. 20 of them will be selected and presented at the Berlinale Co-Production Market 2024. Find details and the link to the online submission here.
August 16 to October 5: Co-Pro Series: Drama series projects in development and financing stages can be submitted for Co-Pro Series. A selection of 10 projects will be presented at the Co-Pro Series Pitch and Networking event. Check here for further information and the link to the online submission for drama series projects.
Late August to late October/early November: Books at Berlinale: literary agents and publishers can submit novels for Books at Berlinale, to be held in cooperation with Frankfurter Buchmesse during the Berlinale Co-Production Market. Find out more here
November: producers, financiers, sales agents, distributors, representatives of funds, TV channels and VOD platforms looking for projects, can apply to participate at the Berlinale Co-Production Market without a project.

Berlinale Co-Production Market
Potsdamer Platz 11, D-10785 Berlin
coproductionmarket@berlinale.de
2021 was also an exciting year: After a Golden Bear in February for Bad Luck Banging or Loony Porn by Radu Jude and three further co-productions at the Berlinale, five films screened at Cannes, of whichCompartment No. 6 by Juho Kuosmanen shared the Grand Prize of the Jury, three films screened in Venice. Wolf by Nathalie Biancheri was one of 3 previous projects showing at Toronto. Hinterland by Stefan Ruzowitzky won the Audience Award in Locarno. Two Co-Pro Series projects premiered in competition at Series Mania - Furia (Norway/Germany) and the winner Blackport (Iceland/UK).
Two of our previous projects were shortlisted for the Academy Award for Best International Film in 2021:Quo Vadis, Aida? by Jasmila Zbanic, which also got nominated, and had premiered at Venice last year, and Charlatan by Agnieszka Holland, which was part of the Berlinale Competition 2020.
More than 350 feature film and 20 series projects from previous editions have meanwhile been made and have been shown at festivals and in cinemas worldwide.
Find the complete list of realised films in the archive
Strong Support for Promising Feature Film Projects: Four Cash Prizes and 1,500 Meetings at Berlinale Co-Production Market
Four cash prizes and one in-kind prize were awarded to selected feature film projects at the 20th edition of the Berlinale Co-Production Market (February 18 to 22).
The Eurimages Co-Production Development Award, endowed with 20,000 Euros, went to the producers of Avalon PC from Spain for their project Iván & Hadoum (director: Ian de la Rosa). The award is presented by the European film fund Eurimages to promote the development of the project. The jury members this year were director and Georgian Eurimages representative Nino Kirtadzé, world sales agent Marcin Łuczaj (Poland, New Europe Film Sales) and producer Mariela Besuievsky (Spain, Tornasol Media).
This time around, an additional prize with the same endowment was donated by Eurimages to support a particularly promising Ukrainian project: the Eurimages Special Co-Production Development Award. It went to the Ukrainian company 2Brave Productions, headed by producers Olha Beskhmelnytsina and Natalia Libet, for the project The Blindsight by Ruslan Batytskyi.
The VFF Talent Highlight Award with the prize money of 10,000 Euros, annually presented by the VFF – Copyright Agency of Film and TV Producers, promotes one promising project from the Talent Project Market organised by the Berlinale Co-Production Market in cooperation with Berlinale Talents. This year the award goes to God and the Devil's Cumbia (director: Carlos Lenin), pitched at the Berlinale Co-Production Market by its producers Daniel Loustaunau (Colectivo Colmena, Mexico) and Paloma Petra (Huasteca Casa Cinematográfica, Mexico). Nominee awards of 1,000 Euros each went to the producers Vildan Ersen (Gatalo Films) from Turkey and Jaime Guerrero Naudin (Rara Cine) from Colombia.
The ARTEKino International Award 2023 goes to Peeled Skin by Leonie Krippendorff, produced by Kineo Filmproduktion (Germany). This award worth 6,000 Euros is presented by ARTE to honour an artistically outstanding project from the Berlinale Co-Production Market.
The Berlinale Co-Production Market also works closely with the Berlinale World Cinema Fund to help exciting new films expand their audiences. For the first time this year, an in-kind prize, the World Cinema Fund Audience Strategies Award, will go to a Co- Production Market project from a WCF-supported country: the producers of Colectivo Colmena and Huasteca Casa Cinematográfica from Mexico and director Carlos Lenin will receive extensive consultations on optimising the audience and communication strategies of their film project God and the Devil's Cumbia.
Congratulations to everyone!
20 Year Anniversary of a Continuing Treasure Trove for Tomorrow's Film Hits: At the Berlinale Co-Production Market, 33 Film Projects Will Meet International Co-producers
For the 20th Berlinale Co-Production Market (February 18-22), 33 film projects from 26 countries have been selected to find partners, in order to secure their financing and get produced as international co-productions in the next few years. 17 of the 33 projects are directed by women.
The official project selection consists of 17 fiction feature projects with budgets between 600,000 and five million Euros being chosen from among 302 submissions. Leonie Krippendorff, Natalia Smirnoff, Ioana Uricaru, Phuttiphong Aroonpheng, Muayad Alayan and Gustavo Pizzi are just some of the names in directing that should arouse film lovers' curiosity about their upcoming films.
In the Berlinale Directors Section, there are an additional three projects in the early stages of financing, whose directors – Caru Alves de Souza, Maria Solrun, Maryam Moghaddam and Behtash Sanaeeha – have already shown successful films at the festival. Two film projects are looking for partners at both CineMart Rotterdam and the Berlinale Co-Production Market as part of the Rotterdam-Berlinale Express.
New in 2023 is the World Cinema Market section: in cooperation with the Berlinale World Cinema Fund, the WCF-funded project Los Ángeles by the two directors and visual artists Joaquín Cociña and Cristóbal León from Chile will be presented here.
In the Talent Project Market, which is organised in cooperation with Berlinale Talents, ten producers from all over the world who are still in the first decade of their careers will present their latest projects, having been selected from 166 submissions. They are also looking for international partners. In addition to feature films, there is also a documentary film project by the Swedish directing duo Lia Hietala and Hannah Reinikainen, who presented Always Amber in Panorama section in 2020.
The companies in the Company Matching programme come from Chile, Estonia, the Philippines, Ukraine, Austria and Luxembourg, and participants can request individual meetings with them to exchange ideas on a structural level, or on the basis of project slates.
The selected projects and companies can be seen here.
The Books at Berlinale selection will be announced soon.
"Co-Pro Series" 2023: Ten Selected Series in Pitch Event and Searching for Partners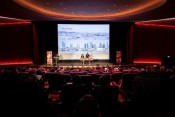 Co-Pro Series Pitches 2020, photo: Lydia Hesse
On 21 and 22 February, the Berlinale Co-Production Market will be dedicated to Co-Pro Series: producers, editors, distributors and other series financiers will take part in the industry's highly renowned pitch event. Co-Pro Series is curated and organised by the Berlinale Co-Production Market and is also part of the Berlinale Series Market programme (Feb 20-22).
Ten top-quality series projects from Europe, Argentina and Canada are looking for suitable co-producers, distribution and broadcast partners, and financiers among the international industry. After the pitches, the producers of the projects will meet interested potential partners at a get-together and in individual meetings.
The "Co-Pro Series" selection can be found here, along with all selected projects of the Berlinale Co-Production Market
"Books at Berlinale" 2023: Eleven Books on Route to Adaptation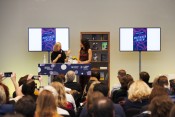 Books at Berlinale 2020
On 20 February, the Berlinale Co-Production Market at Books at Berlinale, in cooperation with Frankfurter Buchmesse, will present eleven exceptional examples of literary material that lend themselves to adaptation. At the pitch event, which has been spotlighting new publications and bestsellers every year since 2006, film producers can get in contact with the film rights holders – renowned, internationally active publishers and booksellers. The presentation of the books by publishers and literary agencies will be hosted by Syd Atlas.
More than 190 books from over 30 countries were submitted for Books at Berlinale this year. The eleven chosen works come from publishers, agencies and authors in Austria, France, Germany, Mexico, the Netherlands, Norway, Slovenia, Spain and the United Kingdom.
The "Books at Berlinale" selection 2023 can be found here.
CoPro Podcast Episode with Ewa Puszczynska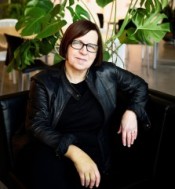 Ewa Puszczynska (photo: Agnieszka Cytacka)
We had the pleasure to help prepare our colleagues' podcast, EFM Industry Insights.
For episode Number 6, we checked in with producer Ewa Puszczynska, who is not only a regular at the Berlinale Co-Production Market, but also known for Academy Award-winning Ida by Pawel Pawlikowski, as well as Berlinale films like Kill it and Leave this Town by Mariusz Wilczynski (Encounters 2020) or as a co-producer of the Academy Award-nominated Quo Vadis, Aida?
Moderator Johanna Koljonen spoke with Ewa about her own, very personal approach to life as a producer and to the art of film. Find it here.