News - Berlinale Co-Production Market
"Co-Pro Series" 2022: Ten Extraordinary Series Projects in Search of International Partners
For the eighth time, the Berlinale Co-Production Market is inviting producers, editors, distributors and other series financiers to pitches and meetings at "Co-Pro Series" on February 15 and 16. "Co-Pro Series" is curated and organised by the Berlinale Co-Production Market under the direction of Martina Bleis and is also part of the "Berlinale Series Market" programme (Feb 14-16).
Ten exceptional international series projects are in search of suitable co-producers and financiers. After the pitch, the project creators meet with interested partners.
The "Co-Pro Series" selection can be found here.
A Boost for 34 Attractive Feature Film Projects: Berlinale Co-Production Market Finds International Partners and Financiers for the Film Hits of Tomorrow
At the Berlinale Co-Production Market (February 12-16), 34 new international feature film projects will be presented and brought together with 600 potential financing and co-production partners in individual pre-planned online meetings. The selected projects involve the 2021 Golden Bear winner and many other successful directors, and so more outstanding films can be expected.
The official project selection chose 19 feature film projects with budgets between 500,000 Euros and 6 million Euros from a total of 295 submissions. In addition, there are four projects in the early stages of financing in the "Berlinale Directors" section, whose directors – Burhan Qurbani, Udita Bhargava, Radu Jude and the Iranian duo Maryam Moghaddam and Behtash Sanaeeha – have already shown successful films at the festival. Another film project, Love on Trial by Koji Fukada from Japan, is looking for partners as part of the "Rotterdam-Berlinale Express" at both CineMart Rotterdam and the Berlinale Co-Production Market. The percentage of female directors in these projects is 45,8 percent.
In the "Talent Project Market" organised in cooperation with Berlinale Talents, ten international producers from all over the world, still in the first decade of their careers, will present their latest projects. These were selected from a further 135 submissions and are also on the lookout for international partners.
The selected projects and companies can be seen here.
"Books at Berlinale" 2022: Ten Chosen Books to Be Pitched For Film or Series Adaptation
On February 14, the Berlinale Co-Production Market, in cooperation with Frankfurter Buchmesse, will present ten exceptional books particularly suitable for literary adaptation in "Books at Berlinale". At the pitching event, which has been presenting new publications, bestsellers and award winners every year since 2006, film producers can get in touch with the film rights holders - renowned, internationally working publishers and literary agents. The presentation of the books by publishers and literary agents will be moderated by Syd Atlas, and take place online this year.
Books from publishers, literary agencies and authors from Brazil, Cameroon, France, Germany, Georgia, Israel, the Netherlands, Spain, Switzerland and the United Kingdom were selected from over 190 submissions to "Books at Berlinale".
The "Books at Berlinale" selection 2022 can be found here.
Berlinale Co-Production Market 2022 goes online
While the festival aims to organise physical cinema visits as safely as possible even in times of pandemic, there are greater obstacles to organising the meeting-driven, face-to-face events. Due to the current pandemic conditions, the Berlinale Co-Production Market (Feb. 12-16, 2022) will thus be conducted online once again.
The Berlinale Co-Production Market will be holding its 2022 meetings, talks and networking events online in order to limit physical contact while creating an efficient and relaxed meeting situation, allowing even those participants who cannot or do not wish to travel to take part. "We very much regret not being able to meet each other in person. But our positive experience from last year makes us confident that we can run a successful online version," says Berlinale Co-Production Market director Martina Bleis.
CoPro Podcast Episode with Ewa Puszczynska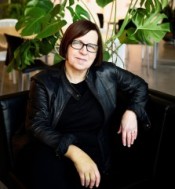 We had the pleasure to help prepare our colleagues' podcast, EFM Industry Insights.
For episode Number 6, we checked in with producer Ewa Puszczynska, who is not only a regular at the Berlinale Co-Production Market, but also known for Academy Award-winning Ida by Pawel Pawlikowski, as well as recent Berlinale films like Kill it and Leave this Town by Mariusz Wilczynski (Encounters 2020) or as a co-producer of the Academy Award-nominated Quo Vadis, Aida?
Moderator Johanna Koljonen spoke with Ewa about her own, very personal approach to life as a producer and to the art of film. Find it here.
Five films that were made after participating in previous editions of the Berlinale Co-Production Market were selected at Cannes: Compartment No. 6 by Juho Kuosmanen screened in competition and shared the Grand Prize of the jury, Let it be Morning by Eran Kolirin and Moneyboys by C.B. Yilin were part of Un Certain Regard, Are You Lonesome Tonight? by Wen Shipei is a Special Screening and Our Men by Rachel Lang was selected for Quinzaine.
Four co-productions from previous editions were part of the Berlinale 2021 selection, among them the Golden Bear-winner, Bad Luck Banging or Loony Porn by Radu Jude as well as Je Suis Karl by Christian Schwochow (Berlinale Special), plus Copilot by Anne Zohra Berrached and Human Factors by Ronny Trocker in Panorama.
Two of our previous projects were shortlisted for the Academy Award for Best International Film:Quo Vadis, Aida? by Jasmila Zbanic, which also got nominated, and had premiered at Venice last year, and Charlatan by Agnieszka Holland, which was part of the Berlinale Competition 2020.
Last year's releases include two further Venice entries, Nowhere Special by Uberto Pasolini and Gaza Mon Amour by Arab and Tarzan Nasser, as well asAll the Pretty Little Horses by Michalis Konstantatos (Sarajevo/Shanghai), Flee by Jonas Poher Rasmussen and The Death of Cinema and My Father too by Dani Rosenberg (both Official Selection, Cannes 2020).
Also in 2020, the Academy Award for Best Adapted Screenplay went to our Berlinale Co-Production Market 2012 project Jojo Rabbit by Taika Waititi, which received six nominations.
More than 330 feature film and 19 series projects from previous editions have meanwhile been made and have been shown at festivals and in cinemas worldwide.
Find the complete list of realised films in the archive