Programme - Berlinale Co-Production Market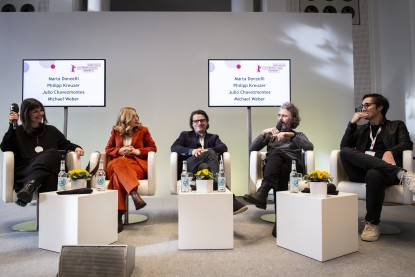 The Berlinale Co-Production Market 2021 (March 1-5) took place entirely online.The usual programme elements were translated into matching online formats.
The programme of the Berlinale Co-Production Market is thoroughly tailored for its professional audience: producers and financiers from all over the world with different backgrounds of experience, but like-minded interests. The programme structure takes into account that each participant has their own busy agenda during the Berlinale, with different amounts of time available for attending the event.
---
You can download the programme of the Berlinale Co-Production Market 2021 on the right.
Please note that you must register in advance to participate in the Berlinale Co-Production Market. For details, please see Participation
Download PDF
Case Studies:
Case Studies on selected Berlinale films explore possibilities in financing and current trends in the field of international co-production.
Country Sessions:
At the Country Sessions, experts provide information about production conditions and co-production opportunities in "their" country in a concise, moderated interview.
Speed Matchings:
At Speed Matching sessions, participating producers can develop new contacts during informal five-minute meetings.
Books at Berlinale:
Launched in 2006, Books at Berlinale, is the world's first market for literary adaptations at an A-festival. International publishers and literary agents present ten pre-selected novels with promising potential for literary adaptation, to interested international producers in moderated pitching and networking events.
Co-Pro Series:
Here, ten exciting international drama series projects that are looking for partners are presented. Participants can also schedule meetings with these projects.