The Profile of the European Film Market
The European Film Market is one of the top three meeting places of the international film and media industries. Its close links with the Berlinale as a public film festival, and its position at the heart of Berlin's vivid creative economy, are defining characteristics of the Berlinale's film market. Yet the EFM is more than just an agile marketplace for trading film and audiovisual content – it has also positioned itself as a platform for innovation and change.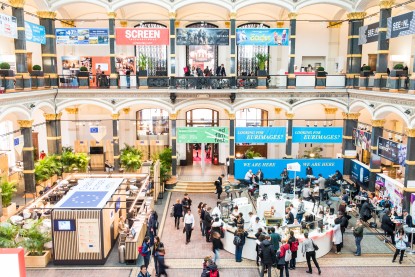 Over a period of eight days, around 10,000 representatives of the international film and media industries – primarily producers, buyers and sales agents, distributors and financiers – come together to network, exchange, inform themselves and do business. As the first major film market of the year, the EFM is in a strong position and serves as a compass, barometer and pacesetter for the new film year: new productions and developments, future-proof business models, contacts and contracts – it all starts here.
The EFM's varied locations range from the beautiful Gropius Bau to elegant Marriott Hotel, modern Berliner Freiheit or the historic Zoo Palast. A professional infrastructure for exhibitors, state-of-the-art cinemas, numerous market premieres and outstanding service via close customer and partner relationships distinguish the film market as a first class trading platform. The EFM serves the diversity and breadth of requirements for its different participant groups, focusing on networking, exchange, information and the constant integration of new players.