Producers & Project Pages
Please note that the information currently given below refers to the EFM 2023 and is shown to offer a general insight. All relevant content will be updated as soon as it becomes available.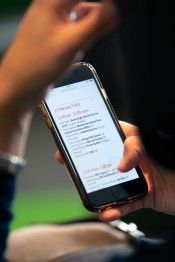 The Producers & Project Pages are a new feature at the EFM for producers to create an individual and professional page with their unique profile and track records. At the same time, this platform gives producers the chance to professionally present their film projects. All registered projects will be accessible to distributors, buyers, financiers and potential co-producers, among others. If you are accredited with a Market Badge as a producer in your main field of work, you will automatically be able to access the Producers & Project Pages. For the first time, this handy tool makes it possible to systematically search for potential and suitable production partners or to look for specific projects of interest.
The Producers & Projects Pages offer an extensive and modern market infrastructure that caters to the needs of aspiring and veteran producers. Combining the best of both the digital and the physical world, the EFM tethers and matches producers, creatives, distributors and financiers, and brings them together at the European Film Market 2023 in Berlin.
Easily accessible and set up in a few clicks, producers can now build their own exposé within the EFM environment, elevate their projects in any stage and promote their services and projects even further through a customised profile page. Matchmaking with the right people has never been more convenient.
Find more details regarding the Producers & Project Pages below and download our step-by-step guide to easily set up your profile.
Contact
EFM Producers & Projects Hub
Faysal Omer
Gropius Bau, 2nd floor
Web Support

Download
The Producers & Projects Pages is the online part of the comprehensive EFM new market infrastructure for producers and their projects, available 24/7, year-round and world-wide. The platform works as a two-part system:
a) The first part is the Producers Page. This is the place for producers to present themselves to the market with their professional work profile.
b) The second part is the Project Page. Here, projects are presented with relevant details. A maximum of three projects per page can be presented at the EFM.
The Producers Pages as well as the Project Pages are cross-linked with each other:
You can search for projects by using different filters. If you are interested in a specific project, you can directly reach out to the producer attached to it as the platform lists the contact details and gives you the option to send a meeting request.
You can also do it the other way around and search for a producer and the platform will show you which projects they currently feature.
Check out the preview below.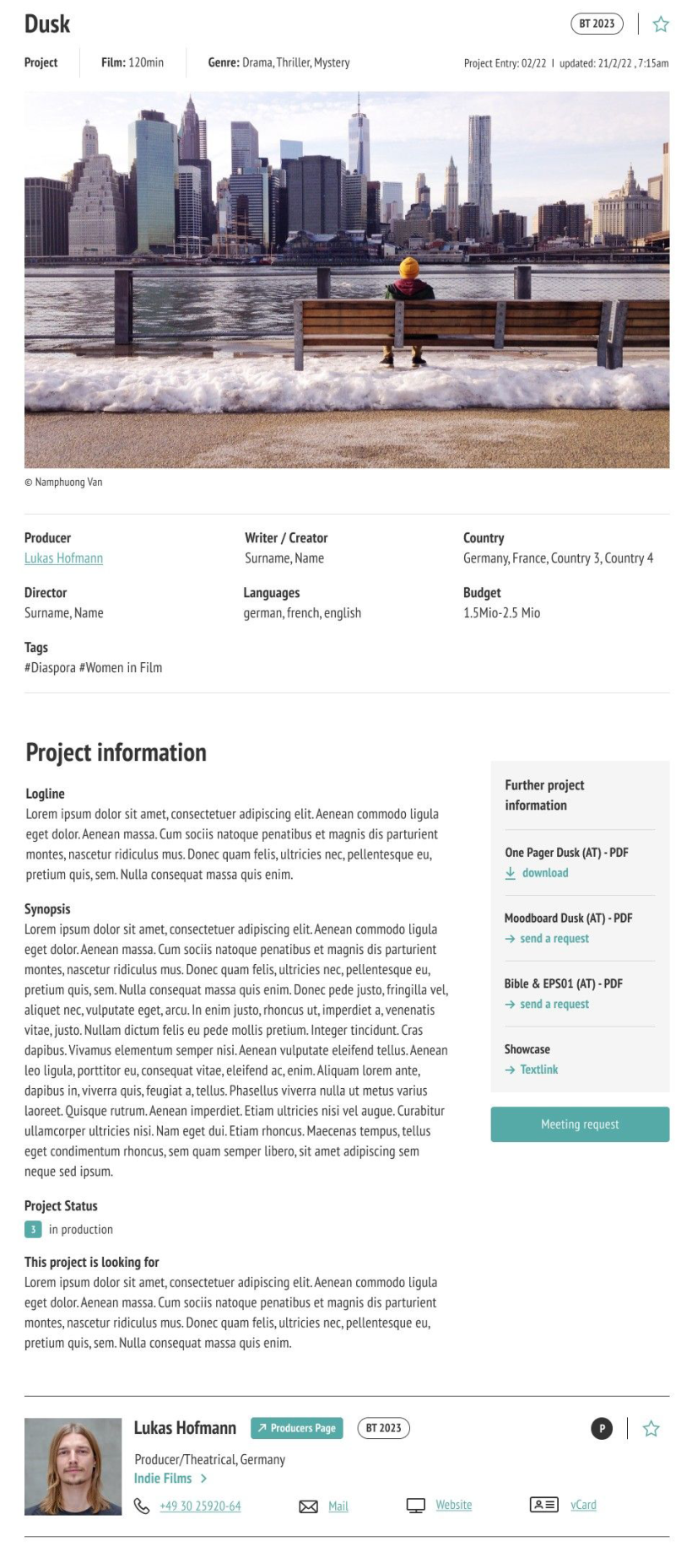 1. Choose 'producer' as your main field of activity in the accreditation process. If you would like to change your main field of activity as a producer please contact: .
We will do our best to change your status, but we cannot guarantee if and when this will happen.
2. Make sure you are successfully registered with a Market Badge or an Online Market Badge.
3. You must have access to the login area of the EFM website with a working EFM account.
4. When logged in, in your personal account click 'All my services' first and then select 'Producer & Project Pages'.
5. Click on 'Create your Producers & Project Pages'.
6. Follow the step-by-step guide and create your Producers & Project Pages.
If you encounter technical problems with the creation of the page contact our web support via or phone: +49 30 259 20 800.
1. The following terms and conditions apply to users of the Producers & Project Pages. We kindly ask you to refrain from inquiries as no exceptions can be made.
2. To be eligible to create a Producers and Project Page, you must be registered for EFM with a Market or Online Market Badge and be a producer as your main field of activity.
3. While it is possible to create just a Producers Page without a Project Page, the latter one can't be set up without a Producers Page connected to it. Project Pages can always be added later.
4. The Producers & Project Page is a B2B-platform for producers and their possible business partners, and is only available through the login-restricted area of the EFM website. Thus, the EFM intends to provide the best possible confidentiality and security for your profile and projects.
5. Per project only one producer, the owner of the page, will be visible with a photo. Co-producers in relation to/attached to the project can be mentioned, but will appear on the Project Page with their names only.
6. It is intended to make the Producers & Project Page available throughout the year so that producers can also use the platform before and after the EFM. This enables producers to constantly prepare and update their market performance. An annual reinstatement of your Market Badge accreditation will be required.
7. As the owner of a page, you or your assistants have editing and modification rights. The owner of the page is responsible for the quality and accuracy of its content.
8. High-quality, constantly updated and detailed information is essential for a B2B-platform. The European Film Market expects the fulfillment of the quality and updating requirements and therefore upholds the right to block pages that do not meet these requirements.
9. The date of the project entry and updates will always be displayed on the top of the Project Pages. Projects must be actively maintained, and we recommend you to update your information and projects at least every three months in order to make the best use out of them and generate as many valuable contacts as possible.