Accreditation
Contact
Intl. Film Industry / Exhibitors
+49 30 259 20 198
German Film Industry
+49 30 259 20 196
Payment / Cancellation
Web Support
+49 30 259 20 800
Mo-Fr, 9.00 am - 7.00 pm
We are currently updating our website, please check back later to get the latest information regarding the online edition of the EFM 2022.Thank ou for your patience.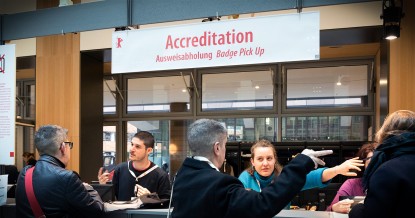 The accreditation for the European Film Market is open.
Industry professionals travelling to Berlin can apply for a Market Badge for the EFM 2022. In addition the EFM offers the possibilty to purchase the Online Market Badge, for Professionals participating remotely.
To register online now and obtain detailed information regarding badge types, prices and participation guidelines please visit the EFM Accreditation website.
Related Sites