Resources & Reports
Industry Sessions 2023
Joining all sessions, filmmaker and consultant Andrew Houchens brings together the key learnings below.
FEB 17
"Imaginative worlds are not neutral spaces. Sustainability, inclusion, and impact go way beyond green shooting." Kicking off the 2023 EFM Industry Sessions, sustainability was examined in the complex contemporary climate. Looking at storytelling as a possible solution to crises, moderators from New Nordic Narratives posed the question: What if we could reimagine our purpose as storytellers with a more holistic view? How can we move from an egocentric to an ecocentric industry? By constantly questioning impact on a personal level to a global level, stories and content can be empowered to help enact necessary change. True sustainability, inclusion, and impact should be central story considerations that demand a 360-degree view of the cultural, social, ecological, economic, and political footprint filmmakers leave behind. But collaboration is key. Speakers from the Global South organizations If Not Us Then Who? and STEPS (Social Transformation and Empowerment Projects) discussed how sharing stories and exchanging is crucial to learning - especially across continents and cultures - in order to build community. From the indigenous filmmaking perspective, representatives from the Sámi Film Institute and Indigenous Screen Office added that career sustainability is crucial for them. The Indigenous Screen Office in Canada in particular highlighted their investment in capacity building to support filmmakers with funding over an extended period, versus the traditional project-based funding model "that needs to shift". This is especially important for Arctic Indigenous filmmakers who tend to be isolated and lacking in government support and funding. Self-distribution schemes are equally important for filmmakers working in these more remote communities. But change toward increased sustainability must come from the top: "We who perceive ourselves as sitting at a table need to repurpose the furniture."
In the competitive marketplace, European films and series face continued challenges maintaining global audience numbers, especially against Hollywood and English language content. To this end, the European Commission recently carried out an extensive multi-country survey looking into audience tastes and preferences, with the goal of providing a useful tool to European content creators. The first survey of its kind in Europe, the Commission plans to publish the full report in the spring in order to promote a better understanding of today's media markets and trends. Perhaps surprisingly for those attending a prestige film festival, the survey found that the director is the least important deciding factor for an average European in choosing a film. Genre is key, with crime/mystery/thriller topping the list and musicals taking unfortunate last place. The survey also found that approximately 70% of audiences are open to watching content in different countries and languages, a significant figure for a continent of so many diverse cultures. The Commission hopes the report will help inform creative decisions but it was stressed that the data shouldn't necessarily define them. The findings will not influence funding opportunities from the European Commission, at least for now.
FEB 18
"Out of great disruption comes great opportunity. We look for that opportunity." Killer insight from veteran Killer Films producer Christine Vachon at Saturday's intimate chat on producer sustainability, in conversation with European producers Maria Ekerhovd (MER FILM, Norway) and Roman Paul (Razor Film, Germany). Nodding to the pandemic as just one example of several "disruptions" that have occurred throughout her lengthy career, Vachon suggested cinema as a powerful tool to process trauma, for both storytellers and audience. "I'm always looking for that big idea. What is the thing that makes it universal? What is the thing that makes it cross borders?" While she confessed platform neutrality in opposition to Ekerhovd who still prefers producing theatrical, all agreed that story must still lead first. Though the lines are continually blurring between traditional notions of theatrical versus television, and parsing out the distinction will become more and more significant in our present context of endless means of media consumption. Cross-producer and country collaboration is also increasingly important, with Paul highlighting a working collective of 10 production companies from all over Europe in which Razor Film is a partner. The collective meets weekly, sharing resources and knowledge, and collaborating on several projects in which tasks are delegated amongst the companies. The model has been an anchor for Razor not only in terms of business, but also in terms of maintaining community and focus. Vachon, Ekerhovd, and Paul agreed that focusing in the early project stages on distribution is also key to sustainability and building audiences. But never underestimate them: "What we hear a lot is: 'oh, this is too intelligent.' I never assume that anyone is dumber than me!"
Film festivals and legacy cultural institutions have traditionally been privileged, predominately white spaces in which curation can and has exacerbated harm against historically marginalized communities. Interrogating these problems from a curatorial, holistic view, a group of programmers on Saturday outlined a new industry-wide curatorial justice project and their efforts to decolonialize the festival and programming space to actively design a better future. Writer and programmer Jemma Desai suggested that her future for curatorial justice may not include a film festival at all, highlighting the criminal justice use of language used by festivals asking filmmakers to "submit" and be subject to decision by "jury". Rather than pitting filmmakers against one another, she envisions a collaborative model in which filmmakers show as a collective rather than focusing on the individual. The work being carried out by these and other programmers has been supported by the Ford and Open Society Foundations - in partnership with more than 50 programmers and festivals - to gather and synthesize their curatorial practices with aim to better imagine more responsible, ethical, and transparent practices. "Our goal is to force the industry to meet us where we are, as opposed to trying to get them to change who they are", added Akoroko Founder and CEO Tambay Obenson. Programmers also discussed accessibility - literally across platforms but also within forums and cultural centers - as giving space for audiences to discover work from different communities, but to also see themselves and their communities in the work. "Programmers of course don't have any ability to fund the work that we wish to see in our festival submissions, but we are responsible for creating a platform that connects artists with audiences."
The room was buzzing with speculation even before representatives from documentary institutions at IDFA, IDA, and DAE got to talking on the "spicy" - as one audience member described it - topic questioning the inherent goodness of documentary filmmakers. "There's a major responsibility on all of us to try institutionally but also individually to accept that we're not great, because I think there is a very persistent claim that we're great. And then we start from it," suggested IDFA Artistic Director Orwa Nyrabia. The speakers recognized that the traditional industry system is a problem, but is difficult to change. Documentary filmmakers and institutions must constantly interrogate their practices to break down the power dynamics inherent in documentary. "But film is not a courthouse and film is not a clinical study. Film is a creative processing of reality", added Nyrabia. "It's not about you. Are you good or bad? Cinema taught us there is no such thing." DAE co-director Brigid O'Shea's ideal situation would be to "burn the whole thing down and start again", but recognized this is unrealistic. Not surprisingly, there is no definitive answer to the question posed. "Nothing is inherently good or bad", said IDA Director of Artist Programs Abby Sun. But she gave example of different ways the IDA is trying to improve, such as expanding on the notion of journalistic practice. Rather than treating documentary filmmaking as "journalism", she suggested that journalistic practice can perhaps better refer to a research process or community consultation, noting the complexity of funding bodies supporting documentaries with supposedly neutral, journalistic point of view.
FEB 19
FEB 20
"The biggest form of paralysis is not knowing where to begin, so just begin anywhere. It's just starting somewhere." This was showrunner André Zoch's advice for creatives, quoting composer John Cage as he suggested that showrunners today should create their own opportunities instead of waiting for them just to show up. Fellow showrunner and writer Adi Hasak agreed, explaining how his career flourished only when he finally ditched longtime representation and started his own business. "At the end of the day just find a way to do it, go out there and get it done." Panelists commented that while writers traditionally weren't entrepreneurial or business-savvy, today they must be, often negotiating their own opportunities. And IP development and control is more important than ever for today's successful showrunners, many of whom are leveraging their IP to exploit not just series but also films, documentaries, games, and beyond. While acquiring original IP can be a cost barrier for emerging TV producers, Babka Productions' Jono Bergmann said their workaround was collaborating with journalists for original stories, several of which have gone on to become fiction series and others documentary. "We see no cannibalization between scripted and non-scripted. I think it's really just about positioning it. Enter with a story and then it's almost looking at the data whether it can work." But also: "Be bold, find stories you feel only you can tell." All agreed that embracing the old adage of "nobody knows anything" is the best way to pursue your unique creative vision in today's bustling series market.
Representatives from four Post-Soviet nations - Ukraine, Tajikistan, Latvia, and Georgia - overviewed the past and current state of their film industries at Monday's interrogation into the meaning of decolonization in the region today. All noted the significance of emancipation from Soviet-era structures, citing Russa's historical influence and over-representation in regional festivals and in the cultural sector overall. German Films' Managing Director Simone Baumann also joined the talk, outlining the federal film promotion's current "no go" mandate to collaborate or support Russian film or filmmakers on any level, given the country's brutal war against Ukraine. At this years 22nd annual edition of the goEast Film Festival in Germany - "the Festival of Central and Eastern European Film" - decolonization will also be the central theme, focusing on several topics including the Ukrainian film industry, reassessing Soviet film heritage and archives, indigenous filmmaking, and the cinema of marginalized communities. While the Post-Soviet film industries tend to be significantly smaller than the industries of most of their European counterparts, often lacking in sufficient frameworks for legal and financial film support, Tajikistani filmmaker Anisa Sabiri posed this criticism around the very question on decolonization: "Do we even have our voice yet, that it was even colonized in the first place?" In countries like Georgia - which faced the worst financial situation of all in the Soviet collapse - the industry is still fledging in many ways, often tied often to the reality of the country's political and economic "roller coaster". As such, all agreed that more structural measures should be taken in order to set up new co-production opportunities with foreign territories. Though commenting on the fortuitous democratic reality of these countries today, Zane Balčus of the Baltic Sea Forum in Latvia suggested: "Let's be positive about these rights to speak our voices here loudly."
Speaking about building buzz early on for independent films, Berlinale Competition filmmakers Matthew Miller and Matt Johson (Blackberry) as well as sales agents agreed: it's a marathon, not a sprint. Use your assets wisely and strategically, not releasing them all at once. Radiant Films' Mimi Steinbauer underlined the continued significance of good production stills as "one of the most important things you can have", commenting that many filmmakers don't budget enough for these or don't think of them at all while on set. The need to think of marketing while in production is just one way to generate buzz and ensure the film reaches audiences down the line. Miller and Johnson also commented on thoughtful ways they are engaging with IP to find audiences, using their current film as an example. By adapting a book on a widely known item - the Blackberry phone - as a starting point, the filmmakers felt they "could hide a very weird movie inside", and also convince investors and Telefilm Canada to come on board. "What's best for us and everybody is when there is a collision between art and commerce. But we're always trying to make things that we think people are going to find interesting. We care about our audiences a lot, it's all we talked about when we were editing the film. It's like we try to be the audience, right?" But they stressed being open to collaboration with professionals like sales agents to properly market your film, not being "seduced" by the idea that being a good marketer will make you a good filmmaker. There should be a division of expertises.
FEB 22
Star showrunner and producer David Bernard of White Lotus fame spoke Wednesday at the Series Market about the importance of international collaboration, and his enthusiasm on building an international brand: "I've always been very curious about the international marketplace. Everyone is dealing with the same issues like heartbreak, family, death, existential thoughts, and so I think that storytelling internationally is relatable…I don't know what will happen with the writer's strike but I'm sure that'll also further kick open the door for more diverse stories and more interesting stories." Using the word "genius" more than once to describe White Lotus creator and writer Mike White, Bernard mentioned the ease in their collaboration and the fact that "99%" of what audiences see in the series is White's "pure vision", untainted by producers or HBO: "There's no other writer where you read a script and you go 'I don't really have any notes'". Bernard teased season three of the popular show, suggesting a White Lotus Asia, but would not confirm any detail. Giving advice to aspiring showrunners as he reflected on his own humble experiences starting in the UTA mail room, Bernard declared "you have to really be passionate about it, it has to be the end all be all. Otherwise, you should go do something else."
Think Tank Reports
The European Film Market (EFM) held three invitation-only Think Tanks during its last two digital editions. Industry experts, stakeholders and professionals were invited from around the globe to reflect and brainstorm about three highly topical areas of reflection for the international film ecosystem today.
The acknowledgement of "Shift Happens" was the overarching theme of EFM Industry Sessions 2023. The intimate working-group format Think Tanks explored the following relevant topics: audience retention and expansion strategies, protecting IP for European producers, and the future of film markets.
Download PDF
The overarching theme of the EFM Industry Sessions 2022 was Shaping Change. Each of the three Think Tanks took a more specific look at the changes impacting various sectors of the film and TV industries.
The intimate, closed-door discussions concentrated on several key topics: the future of the film ecosystem, changes in distribution and changes in production.
Download PDF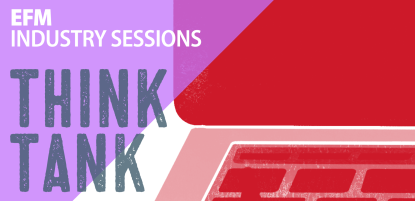 The intimate, closed-door discussions concentrated on the ever-increasing digitisation of the industry, heightened to never-before-seen levels during the pandemic; the current and future roles and responsibilities of festivals and markets; and expanded access, diversity and inclusion in a business still controlled by a few.
Download PDF