Resources & Reports
THINK TANK 2021
Reflecting, Rethinking and Resetting: The Industry in Flux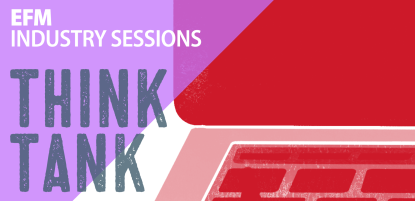 The European Film Market held three invitation-only Think Tanks entitled Re:thinking the Future of Film Business, welcoming industry experts, stakeholders and professionals from around the globe to reflect and brainstorm about three key topics facing the international film industry.
The intimate, closed-door discussions concentrated on the ever-increasing digitisation of the industry, heightened to never-before-seen levels during the pandemic; the current and future roles and responsibilities of festivals and markets; and expanded access, diversity and inclusion in a business still controlled by a few.
Download PDF
In its first virtual incarnation, the EFM was happy to welcome a very international and diverse body of creatives and professionals to discuss these topics in highly focused, working-session formats. Each session welcomed about 30 participants, who were assured a safe space to share their experiences, ideas and potential steps forward.
You can download the key findings of the three Think Tanks available as a PDF on this site.