Resources & Reports
Think Tank Reports
The European Film Market (EFM) held three invitation-only Think Tanks during its last two digital editions. Industry experts, stakeholders and professionals were invited from around the globe to reflect and brainstorm about three highly topical areas of reflection for the international film ecosystem today.
The overarching theme of the EFM Industry Sessions 2022 was Shaping Change. Each of the three Think Tanks took a more specific look at the changes impacting various sectors of the film and TV industries.
The intimate, closed-door discussions concentrated on several key topics: the future of the film ecosystem, changes in distribution and changes in production.
Download PDF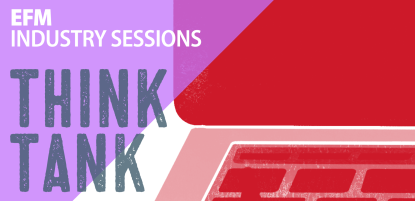 The intimate, closed-door discussions concentrated on the ever-increasing digitisation of the industry, heightened to never-before-seen levels during the pandemic; the current and future roles and responsibilities of festivals and markets; and expanded access, diversity and inclusion in a business still controlled by a few.
Download PDF
Industry Sessions 2022
EFM's 2022 Industry Sessions came to a close on Tuesday following six exciting days of conversations and key learnings exploring the present and the future of "Shaping Change." From tectonic shifts caused by VoD & streaming to accessibility concerns faced by the disabled to the role of funding for the marginalised and how innovative technologies play a part in all of this and beyond, the status quo was consistently questioned and challenged over dozens of sessions on topical areas of reflection facing the industry today.
Joining all sessions, filmmaker and consultant Andrew Houchens brings together the key learnings below.
FEB 10
Adapting to and "Shaping Change" versus merely reacting to it was the major takeaway from EFM 2022's stirring Opening Session. Economist and Professor Mariana Mazzucato painted a bigger picture, highlighting the concept of innovation within the marketplace as an essential means to its evolution. She noted diversity, sustainability, and inclusion as just a few of the essential aspects of the value chain that should be present in all industry sectors in order to advance creativity and productivity. Veteran producers and innovators Karin Chien and Nusrat Durrani underlined this notion, pointing to examples from their prolific careers which have embraced the idea of being an "outsider" and creating diverse content for diverse audiences, in effect maximizing the value of IP to reach a wider public. Entrepreneur and content creator Mo Abudu took it all home, tracing her own professional evolution from business owner to talk show host to film & TV producer to push forward that change is imminent. The future is exciting and is already here, so storytelling must innovate and adapt, and audiences will follow. Click here to watch VoD.
Like many industry sectors, animation has been catapulted to new heights through cutting-edge breakthroughs in technology, but also through cross-pollination with other sectors. AR/VR/XR and gaming have merged and expanded incredibly over the past years, and they connect perfectly and organically within animation. Experts in this session exploring the future (and present) of animation agreed that audience engagement was a key part of this trend, referring to the "metaverse" as a natural next step in storytelling. Audiences are no longer just viewers but rather can be active, real-time participants in changing narratives increasingly using animation as a tool to expand storytelling, giving audiences the ability to contribute to story universes by creating their own user-generated content. Animation furthermore allows for increased sustainability, the experts argued, with smaller teams and greener optimizations outputting more efficiency industry-wide. Click here to watch VoD.
presented by
Sensitivity to data-monitoring has increasingly been highlighted as a major and necessary driver toward progressive change in the industry, but how can we break discriminatory practices often inherent in data collection and encourage more equity, both on screen and on film and executive teams? Experts broke down the important work they've been doing to allow more integrity to the process, through examples like inviting more collaboration across industry sectors, industry bodies, and different communities, giving applicants more confidence. Data collection is also increasingly innovating to reflect more individuality and diversity through self-identification. Founders of the blockchain–driven platform Decentralized Pictures - an arm of Francis Ford Coppola's American Zoetrope - presented their new outfit which takes data collection to the next level, allowing for users to become decision makers in the kinds of projects the company funds and produces, diverting power away from the conventional powers-that-be and giving it back to the public. By better understanding audiences through transparent and publicly available data, creators can harness more power and ownership over their content. Click here to watch VoD.
FEB 11
FEB 14
FEB 15