Press Releases
European Film Market & Co-Production Market
Mar 9, 2021
European Film Market Reports a Successful Online Edition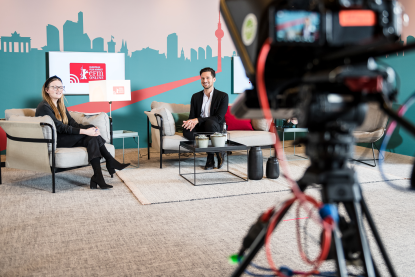 The online edition of the Berlinale's European Film Market (EFM) came to a successful close on March 5. On five market days from March 1 - 5, up to 12,000 market participants from 131 countries took part daily in numerous activities at the EFM, one of the most important trade platforms for audiovisual content worldwide. The majority of participants was from Europe, followed by the USA, Canada, Russia, Japan, Brazil, China and South Korea.
"We're pleased that the online version of the European Film Market was so well-received by the industry, and that the EFM concept for this special year was a success", comments EFM director Dennis Ruh. "The strong interest in the online platform, the bustling activity of sales businesses, the high demand for the Online Market Screenings, and the extensive use of the conference programme and active networking formats show that the industry actively immersed itself in the market during the EFM week. It's especially encouraging to see the number of completed films and films currently in production that were registered as sold during the market, and that we got such positive feedback on the quality of the films offered by international sales agents."
A total of 504 exhibitors (2020: 564) were represented at 264 virtual booths from 60 countries. 215 of those businesses were first-time exhibitors at the EFM.
A total of 821 films (2020: 732) were shown in 1,452 Online Market Screenings, including 578 market premieres (2020: 525).
EFM Industry Sessions
The comprehensive "EFM Industry Sessions" conference programme - with around 90 talks, seminars, round tables, pitches, podcasts, presentations, keynotes, workshops, think tanks, masterclasses and showcases - was followed live by thousands of market visitors, and reached 130,000 views. Most of the "EFM Industry Sessions" are still available to Online Market Badge holders for viewing on demand until April 15.
The "EFM Industry Sessions" opening event kicked off the framework for this year's conference programme, whose three main content focuses were "Digitising the Business", "Social Sustainability" and "Diversity & Inclusion". Over 80 international representatives from various areas of the industry participated in the three think tanks, where these themes were looked at in depth during the week of events.
The main results of this very active exchange were presented and discussed at the closing event on March 5, in order to share the important ideas with the whole industry, and are now available here.
EFM Goes Global
The programme of global market screenings, "EFM Goes Global", celebrated premieres in Tokyo, Melbourne, São Paulo and Mexico City. 19 films from the official Berlinale selection - including nine films from the Competition section, the heart of the festival - were shown in these four key film distribution territories. The screenings were only accessible to film distributors from the regions. Approximately 180 distributors in total took advantage of the opportunity.
Press Office
March 9, 2021