Press Releases
European Film Market & Co-Production Market
Aug 25, 2022
Call for Projects: Berlinale Co-Production Market Seeks Film and Series Projects Looking to Connect with Partners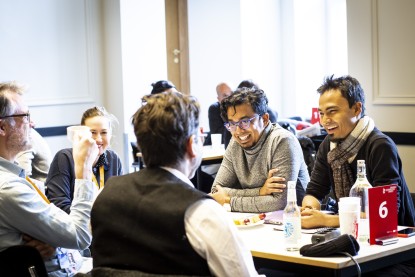 For the 20th Berlinale Co-Production Market (February 18–22, 2023), experienced producers from all over the world can submit new feature-length film projects in need of co-producers and financiers until September 30, 2022.
By the end of this year, market curator Martina Bleis and her team will choose approximately 20 projects from all submissions and confirm them for the official selection. The project budgets can be anywhere between one and 20 million Euros, and should have at least 30 percent of the financing or production funding from the project's native country in place prior to selection.
There are some exceptions (terms and conditions) for low-budget projects, or projects with less than the prerequisite 30 percent financing in place. For example, this year the minimum budget for some countries is only 600,000 Euros in order to better reflect production realities, and to improve support to World Cinema Fund-supported regions and other countries in Southeast Europe. Additionally, producers in the early phases of their career can still apply for the "Talent Project Market" in cooperation with Berlinale Talents – the deadline is September 1.
"Co-Pro Series"
Until October 15, international producers can submit their new series projects for participation in the highly sought-after "Co-Pro Series" pitch to find international co-production partners. At the "Co-Pro Series" event, the Berlinale Co-Production Market team organises meetings with potential partners in addition to the pitch
(more information on "Co-Pro Series"). At the Berlinale Co-Production Market, a tailored timetable is created for each selected project with suitable and interested co-producers, financiers, international sales agents, distributors, broadcasters and fund representatives, resulting in 1,500 pre-planned, individual meetings every year. Producers and financiers in search of promising projects like those selected here, and who wish to engage in concrete co-production talks can apply to participate starting in November 2022.
In addition to the feature-length film and series projects presented at the Berlinale Co-Production Market, once again, five international companies will be introduced at the "Company Matching" event. At the successful pitch event "Books at Berlinale", in cooperation with the Frankfurt Book Fair, for the 18th year running, participants can discover exciting new novels for potential screen adaptations.Case studies of successful co-productions and other talk and networking events complete the Berlinale Co-Production Market programme, which for the past 20 years has been the place to go at the Berlinale for producers and financiers for all subjects related to international co-productions. After two successful online editions, the 2023 Berlinale Co-Production Market is again being planned as a physical event, with digital elements being added where necessary.
Success to Date
Over 340 international feature-length film projects submitted to the Berlinale Co-Production Market in search of partners have already been successfully produced, along with over 20 series. Currently being shown in German cinemas is the winner of the 2022 Golden Bear, Alcarrás by Carla Simón, a Spanish-Italian co-production that won the renowned Eurimages Co-Production Development Award in 2019 in its project phase. This week, the World Cinema Fund-supported and multiple award-winning co-production You Will Die At Twenty, by Amjad Abu Alala, will be released in German cinemas. In addition to the second Golden Bear winner in a row (2021: Bad Luck Banging or Loony Porn), this year there were numerous other international successes, including Rule 34 (Regra 34) by Júlia Murat, which won the Golden Leopard at the Locarno Film Festival, and previous "Talent Project Market" project Flee by Jonas Poher Rasmussen which received three Academy Award nominations. The series Trom - with two wins at the Monte Carlo TV festival - and Eldorado KaDeWe were also much talked about and sold internationally.
Two more recently completed films, Blanquita by Fernando Guzzoni and Autobiography by Makbul Mubarak, will soon celebrate their premieres in Venice. Autobiography will also screen at Toronto, as well as the feature-length animated screen adaptation of short stories by Haruki Murakami, Blind Willow, Sleeping Woman by Pierre Földes, which premiered in Annecy. The Berlinale Co-Production Market has been supported by MDM - Mitteldeutsche Medienförderung and the Creative Europe - MEDIA programme by the European Union in the past years. The Berlinale Co-Production Market is part of the European Film Market. Online submission forms and more information on the 2023 project submission is available at www.berlinale-coproductionmarket.de.
Press Office
August 25, 2022