Press Releases
European Film Market & Co-Production Market
Jan 29, 2018
Projects and Ideas for the African Market: Once Again, the African Film Industry Introduces Itself at the "Berlinale Africa Hub"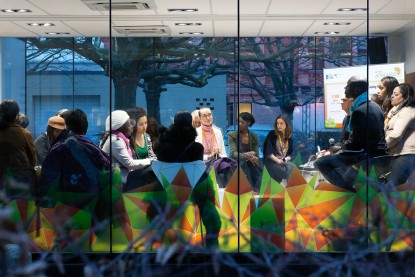 After its successful premiere last year, the EFM initiative "Berlinale Africa Hub" will be continued. From February 16 - 21, it will again provide African filmmakers and creatives with a communications and networking forum to discuss changes in the African industry that have come about thanks to innovations and technology, and to network within the international film industry. In talks, presentations, panel discussions and a VR lounge, filmmakers from or active on the African continent will introduce new platforms and developments and highlight the growth of a distinct film industry driven by local innovations and new technology solutions. The "Berlinale Africa Hub" will again take place at Gropius Park, thanks to support from the German Federal Foreign Office and in cooperation with Discop.
Businesses and institutions such as Wesgro Film and Media Promotion, Durban Film Mart, National Film and Video Foundation (all of South Africa), Namibia Film Commission (Namibia), Burundi Film Center (Burundi), Kwetu Film Institute (Rwanda), Zanzibar International Film Festival (Zanzibar), Sisters Working in Film and Television, Discop, Transmedia Africa, AfriDocs & Docubox, Goethe-Institut Johannesburg (all of South Africa), Hot Docs-Blue Ice Group (Canada), Trace TV (France), Rushlake Media (Germany) and Nollywood in Germany (Germany) will hold presentations in the morning, followed by Q & A sessions on their projects and ideas for the African market.
In the early evening, following the presentations and talks, the "Berlinale Africa Hub" happy hours will take place, where participants will have the opportunity to discuss and network.
Once again this year, visitors can view numerous VR projects in the VR Lounge. PopUp Offices are a new feature which, for the first time, provide "Berlinale Africa Hub" clients with a location for meetings and conferences with other market participants.
The "Berlinale Africa Hub" is an initiative by the European Film Market (EFM) in cooperation with the World Cinema Fund (and its new special programme WCF Africa, which began in 2016 and funds films from Sub-Saharan Africa with support from the German Federal Foreign Office), with Berlinale Talents (and its sister programme Talents Durban, which supports talented filmmakers of Africa year-round), and with the Berlinale Co-Production Market.
Press Office
January 29, 2018