Press Releases
European Film Market & Co-Production Market
Jan 14, 2020
The EFM in Series: "Berlinale Series Market & Conference" With Current Topics and Showcases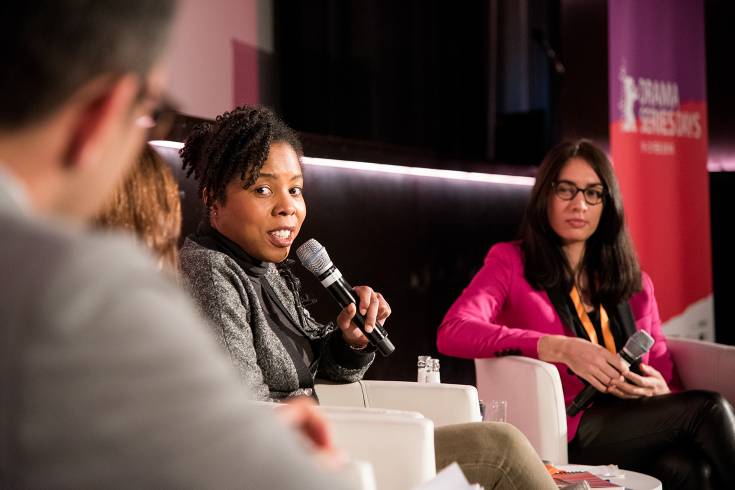 The EFM in Series: "Berlinale Series Market & Conference" With Current Topics and Showcases
"Berlinale Series Market & Conference" (previously "Drama Series Days") will be offering its accredited professionals a curated selection of Market Screenings and an international, top-class conference programme for the sixth time from February 24 to 26 at the Zoo Palast. Numerous networking events and receptions will take place in the Berlinale Series Lounge, which will be located in the SUPER Concept Space this year and will also serve as a space for exchange and networking.
The series of the public programme Berlinale Series will also celebrate their premieres at the Zoo Palast. Additionally, ten selected projects, which are looking for co-production and financing partners will be presented again as part of the "Co-Pro Series" Pitch.

Streaming platforms are booming, the TV market is changing rapidly and both broadcasters and production companies have to meet a steadily growing demand for serial content. Having arrived in the new decade, this happens against the backdrop of a thorough examination of social, creative and financial aspects of series production. There are numerous areas of focus: How can diversity and #metoo be implemented on the set? How do you tell stories with a social impact? And how do regional players assert themselves successfully in the domestic market against global streaming giants?
Conference Programme
In cooperation with the Film- und Medienstiftung NRW, the conference will open with the topic "The Streaming Revolution". As in previous years, the programme is supplemented by series showcases from all over the world. Among other things, this year's EFM "Country in Focus" Chile will welcome five series and their producers on stage. Kai May (Unverzagt Rechtsanwälte) will speak with Andreas Gutzeit (Storyhouse), Maria Elena Wood (Invercine & Wood) and Bo Stehmeier (Red Arrow Studios International) about the German-Chilean series Dignity. British expert Ita O'Brien will discuss dealing with intimacy on the set in the panel "The New Intimacy".
Market Screenings
This year, the Market Screenings Programme comprises around 30 handpicked international projects. Australia is strongly represented, with Total Control (D: Rachel Perkins), The Hunting (D: Ana Kokkinos, Sophie Hyde), Mystery Road 2 (D: Warwick Thornton, Wayne Blair) and for the first time, Japan, with The Real Thing (D: Koji Fukada). Additional series, including documentary and short formats, derive from Brazil, Canada, Colombia, Denmark, Finland, France, Germany, Iceland, Israel, Netherlands, New Zealand, Nigeria, United Kingdom and USA.
The "Berlinale Series Market" and its annual conference programme are jointly organised by the European Film Market, the Berlinale Co-Production Market and Berlinale Talents. The official main partner of "Berlinale Series Market" is the Film- und Medienstiftung NRW. The "Berlinale Series Market" is also funded by Medienboard Berlin-Brandenburg and will take place in cooperation with Unverzagt Rechtsanwälte and Variety as media partner.
Press Office

January 14, 2020